Kids With Cerebral Palsy Tortured, Killed, In Nigeria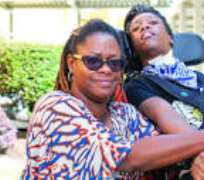 Odimegwu Onwumere exposes how government and community hardly support families living with cerebral palsy children leading to some parents, health workers assaulting and doing away with children with special needs
In what may appear like a Hollywood or Nollywood films, Nigerians stood dead recently watching a leaked video recording of a renowned Nigerian physiotherapist going berserk against a child with cerebral palsy (CP). The physiotherapist assaulted the child several times.
The CCTV that uncovered the inimical behaviour of the physiotherapist showed that the child was slapped and pushed around the ground several times. The mother of the child whose name was given as Mrs. Bukola Ayinde – Founder of P4:13 Foundation and author of Diary of a Special Needs Mum – could not bear with the pains of watching the manhandling of her daughter with special needs.
Ayinde's voice echoed amid bitterness. "Such was a primordial behaviour of a health worker who was supposed to save life," she cried out. "I could not believe that it was my daughter that was maltreated the way the physiotherapist did. The most annoying was watching my daughter hit her head on the tiles and others several times."
It was noted that the physiotherapist from hell happened to be Ayinde's family physiotherapist. To further the humiliation of the child, the physiotherapist used other objects like cell phone on the child. According to a report dubbed "My Daughter with Cerebral Palsy Was Battered by the Therapist I Trusted" credited to Ayinde, she claimed that the physiotherapist warped her daughter's hands quite a lot of times.
"At a point she sat on my daughter's hands, at another point she tied her hands behind her head. I watched as my daughter fell from her chair while her neck was stuck in between the space at the vertical back rest and the flat wood used for sitting down. Did I mention that she took out time to take her selfie? Up to five times."
It was however learned that the authorities under the auspices of Registrar at Medical Rehabilitation Therapists Board at Yaba had apprehended the victimizer of the child. But some of the people who watched the video said that they could not finish watching the video given its pitiable nature, heart breaking. To them, they were of the view that the health worker should not have seen any mother that gave birth to a child with special need as her wish.
Having children with special needs is not the preserve of any woman, be her poor or rich, they said. In February 2017, there were reports of the wife of Kogi State Governor, Barrister Amina Oyize Bello, the founder of Hayat Foundation, a Non-Governmental Organisation, NGO, named after her first son, Hayatula Olarize Bello, saying that she was "mocked and stigmatised" for the reason that her fate bestowed a CP child to her.
"I have a son named Hayatula Olarize Bello. I gave birth to him sometime in 2007 and he has Cerebral Palsy," Bello said. "Initially, we didn't know, we were just living in denial. We travelled from one country to the other, seeking solution and of course, we went through all those challenges and discovered that he had Cerebral Palsy."
In a chat with the media, Madam Bello frowned at conjectures that most parents lock up their children with special needs inside their homes and would not want any stranger to notice they have such a child.
"The major challenge was a society that was not accepting his kind. When we showed him too much love, people began to say that we must have used him for money rituals and when we don't, it is like we are hiding him," she added.
While many parents would hide such a child, Mrs. Kawan Aondofa Anjira, the Founder of SEEDOO Initiative, a group that sees to children with special needs, while fielding questions to journalists on the issue in Abuja, last year, claimed that children with special needs were not only hidden by their parents, but also killed.
"Children born with cerebral palsy (CP) are killed every day in Nigeria, whereas they should deserve a right to survive," Anjira claimed.
Madam Bello conversely testified that she could not imagine being wicked let alone practicing wickedness. She said that she was humane and loved people so much beginning from when she was growing up, hence she loved her son so much not minding his nature-given fate.
"I grew up with empathy for people and I love my son regardless; and my husband had to really put his feet down and insisted he is my first son," she said. "Eventually our journey took us to Kennedy Craig in the United States and Johns Hopkins respectively. There, not just the hospital, but society was so loving and for the first time I realized there was nothing wrong with my son."
While Madam Bello said that the country she travelled to loved children with special needs, Air Vice-Marshall Femi Gbadebo (Rtd) who had a 20-year-old son suffering from CP, stated, "Having managed my son's condition for quite some time and travelled extensively around the world, I came to the conclusion that something is fundamentally wrong with the way disability is being managed in Nigeria."
Those who know better said that CP patients are common in Nigeria. According to Freeman Osonuga, Founder/ Executive Director, Heal The World Foundation Nigeria, "The prevalence of cerebral palsy among pediatric neurology clinic of the Olabisi Onabanjo University Teaching Hospital from 2000 to 2006 was a dashed 50.3 percent."
Just in 2013, Nigeria was said to have 700,000 children with cerebral palsy, as according to Consultant paeditrician, Prof Afolabi Lesi while speaking at the maiden National Cerebral Palsy (CP) family forum organised by a CP initiative, Benola, Lesi, Dean of Clinical Sciences at the University of Lagos (UNILAG).
"60 to 80 per cent of such children would have co-morbidities such as seizures and intellectual disabilities, among others," said Lesi.
This was even as Gbadebo sermonized that about 17 million people were passing through CP around the world; it's believed that where there is a CP patient, the household is affected, especially in Nigeria where the healthcare is unsatisfactory.
Arguing that the mindset of Nigerians must change if cerebral palsy would be ultimately defeated, Gbadebo said, "We need to get the Federal Government and the private sector involved in this fight. I believe that it is ignorance that gives rise to the fear and stigma associated with disabilities in this country."
However, while the physiotherapist that assaulted the child perhaps saw CP as a crime, this is then again not the view of experts, advising, "Cerebral palsy (CP) is a physical disability that affects movement and posture. It is an umbrella term that refers to a group of disorders affecting a person's ability to move. CP is a permanent life-long condition, but generally does not worsen over time. It is due to damage to the developing brain either during pregnancy or shortly after birth."
Odimegwu Onwumere is an award-winning journalist based in Rivers State, Nigeria. He contributed this piece via: [email protected]