Five Soldiers Named as Members of Evans, Kidnap Kingpin's Gang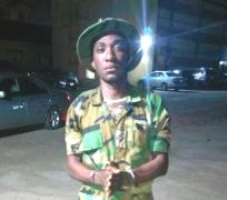 Lance Corporal Victor Chukwunonso
THE Inspector-General of Police Intelligence Response Team (IRT), has arrested a soldier and declared four others wanted for being members of the gang of the alleged kidnap kingpin, Chukwudumeme Onwuamadike, aka Evans, who is now in police custody.
This came on the heels of the explanation of the Lagos State Police Command as to why it is still holding Evans without charging him to court.
In a press release, the Lagos State Police Command gave the name of the arrested soldier as Lance Corporal Victor Chukwunonso with Army No: 09/NA/64/6317. He was attached to the Nigeria Army Band Corps Abalti Barracks, Surulere, Lagos.
Chukwunonso who is a native of Onitsha, Anambra State, was arrested in Ojo area of Lagos. He was alleged to have received various sums of money three times from Evans (N2 million, N1.5 million and N3 million) as his share of the ransoms paid by some of the victims he assisted in kidnapping.
Prior to the Lagos Police Command issuing the press release, a dependable police source had told Sunday Sun: "Four other soldiers who were named by Evans during interrogation have been declared wanted. They have been named as the formidable forces behind his successful reign as a kidnapper.
"IRT arrested Nonso and handed him over to us. We are keeping him in our custody, but I won't tell you where he is kept because of the sensitive nature of the case. I don't know how you got the information, but it is true. We have a soldier in our custody; Evans named some soldiers as the ones who always accompanied his gang on each operation.
"Well, we are still conducting investigations, to unmask more persons that aided him. It is a serious issue that soldiers would be supporting evil such as kidnapping," he said. However, the Lagos State Police Command yesterday explained why Evans had not been charged to court.
The Lagos State Commissioner of Police, Mr Fatai Owoseni, who addressed the press said: "Evans is a special kind of criminal that needs proper debriefing. We are using him as a case study. This is a man that has committed a lot of crimes. He struck in Abuja, Anambra, Imo, South-south and South-west states. You can see the magnitude of crimes that he committed."
Owoseni, who was represented by the Deputy Commissioner of Police, Mr Dansuki Galadanchi, further said: "We are still studying Evans. There are more revelations and more arrests each week. You can't just charge such crafty criminal like Evans to court. He needs more debriefing, which is what we are still doing."
He also explained why a suspect, Emeka, who was arrested in connection with Mr Donatus Duru's abduction was released.
"The police did not release Emeka, we charged him to court after Evans and his gang told us that they have never met him. We did identification parade and he was not identified. We also did voice analysis and experts could not identify his voice in all the telephone conversations Evans did with his phones. Evans said there was no way Emeka would have known his enclave since those who go for kidnapping did not know the place. They kidnapped and those who kept the victims would meet them on the way and pick the victims. After painstakingly interrogating Emeka and members of the gang of Evans, we found no evidence against him, but we charged him to court and the court released him.
"His former boss, Duru saw reasons with the court, so there was no foul play in his release." – Sunday Sun.