OPEN LETTER TO SANDRA DURU THE LADY WHO SCAMMED ME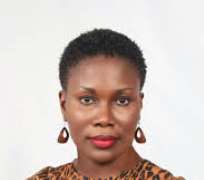 Dear Sandra Duru,
One of the rules of the spiritual world is that you cannot take away someone else's happiness and expect to have happiness for yourself. That is how it is. Because the book of rules or the spiritual law is very exacting. Most people have pain because they have unconsciously broken a spiritual law at some time in the past. God is watching you. You operate some companies as fronts in some fraud deal, which is a high organized fraud outfit set up to defraud unsuspecting victims. You succeeded in defrauding me the sum of N2.5M
I gave you N2.5M for a trip to the USA for a training programme you claimed was organized by Pre Adult Affairs Organization. You contacted me to attend a training and facility tour which you claimed to be organized by your companies, Pre Adult Affairs Organization . You told me that I was being invited by your US partners, The Infinite Foundation INC , California USA for training purposes in preparation for your UP project in 2016.
You asked for the sum of N2.5M for you to process visa for me which I paid to you. This was in April 2016. I did not get any visa for the programme and you claimed the programme did not hold. I contacted you and demanded that you refund my money. You refused to refund me and went ahead to block me on Facebook and have since ran away, and every efforts to reach you have not worked since your phone number is no longer available.
I have reported you to the authorities but surely life has a way to repay people like you . Surely your sins will catch up with you . Unknown to me you did same thing to Mr. Nicholas-Ubechu Chukwubuike Nelson. I have also read how you begged a jobless acclaimed footballer in India to marry you just to bear Mrs. How you flew the desperate man to Nigeria for your wedding. The man thought you were rich because you can boast for Africa. The India guy later found out your lies after luring him into marriage and he flee. I also read how your former USA lover boy flew in from USA to get married to you too thinking you were rich. How he went haywire when you wanted to dupe him with your fake NGO Pre-adult Affairs Organization. He even posted your nude pictures online. You keep meeting and deceiving people on Facebook with fake pictures of your achievements.
I read how you blackmailed the Deputy Governor of Imo State, Prince Madumere with a story published in some media sites that you caught him in homosexual act with your former husband only for the public to discover the story to be false. I have seen the story of how you duped one Edith Ayiya Chiedu of $4500 and also got her into trouble in the US. There is also a story of how you defrauded your friend of N10 million and threatened to kill her and you were charged at a Tinubu Magistrates' Court in Lagos. The Magistrate, L.A. Owolabi, granted you N500,000 bail with two sureties in like sum. I also read about your scam case of N1,000,000 with Evangelist Ezekiel Uzoechi. Another story talked about how due to your fraudulent activities in SON (Standard Organisation of Nigeria) you were incarceration for three good months.
Life goes on but the mind is a peculiar thing with its memories. The memory will throw our anchors to all these each time we remember your name. Everyone earns what he gets. You will receive your judgment some day
Yours,
Danladi Hassan
21/6/17