Shut Up or I Expose Your Wife, Amaechi Threatens Wike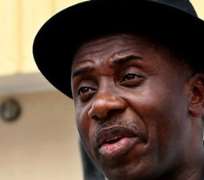 ROTIMI Amaechi, minister of Transportation, on Tuesday, June 20, threatened to expose the wife of Governor Nyesom Wike of Rivers State if the husband does not shut up his mouth.
The minister also noted that contrary to allegations by Wike that his wife and family were involved in government business, he said his wife was just a trader and never meddled in government business.
Amaechi spoke after inspecting facilities at the Kaduna Inland Dry Port, said: "They have a governor who is a child. By accident of Goodluck Jonathan because I don't want to attribute it to God but by whatever, he entered office and starts talking about my wife and family.
"When I was a governor, nobody had access to government business, not even my wife and siblings. Even as minister, nobody had access to government business because it is not a family business but a government business.
"The problem with Nyesom Wike and I want to say it clearly that if he does not shut up his mouth and do his work, I will bring his wife into focus.
"I have been very matured not to bring his wife out but if Wike does not close his mouth and talk about my wife anymore, I would bring out his wife.
On whether his wife collected any contract or money, Amaechi said: "my wife would never to that. We don't do family business. All I care about is transparency, my wife is a trader, she buys and sells and Wike knows that."
On the accusation that he squandered money, the minister replied: "You believe that? Is it the same man who said I have $50 million in Lagos and could not prove you would believe? Or the man that said I didn't pay salary until I left office and he later says no, it's pension I didn't pay? You believe such a man?
"As usual he was given how many hours on television and they cut me off when I came and put disclaimer. The television station gave Wike all the opportunity to say the rubbish he has to say without facts. He has no facts and he was allowed to malign people's character."
On the approval of the Judicial Commission of Enquiry by the court, he said: "How do we know how the court arrived at its decision? We were not given fair hearing. We were not even informed. There is a panel of justices in Rivers State, which is the Court of Appeal and by the time we knew it, they took the matter from them and gave to a panel that came from Adamawa."