New Nigeria Air Carrier, Jetwest, to Begin Operation in December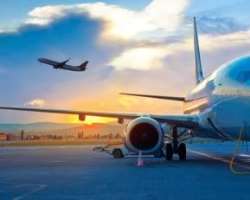 A new airline, JetWest, is set to begin operation in the Nigerian aviation industry, PREMIUM TIMES has learnt.
The airline, founded by a Nigerian entrepreneur, Dikko Nwachukwu, is being cleared for take-off and is billed to begin operation in December.
Speaking about the plan, Mr. Nwachukwu said the guiding vision for JetWest is to make air travel accessible for more people.
"We are about democratizing the skies," he said on Wednesday.
According to CNN, jetWest plans to launch this year with 100 employees and a fleet of three Airbus A320 jets flying local routes in Nigeria.
JetWest says it aims to project a fresh and vibrant image, adding that the company's social media accounts are already trailing colorful cocktails and memes ahead of launch, aimed at youthful, savvy consumers.
The Nigerian aviation industry has suffered a prolonged spell of economic turbulence.
Arik air, the nation's leading carrier, was recently taken over by the government to prevent it from collapsing.
"Nigeria looks like a low-cost operator's dream with massive population density," Ivan Nadalet, vice president at industry analysts' CH Aviation, told CNN in an interview Wednesday.
"But Nigeria is a very difficult operating environment… the economy has collapsed and there is no foreign exchange, so it is very difficult to get revenue out of the country for leases."
Mr. Nadalet added that JetWest may struggle to secure access to the airspace of neighbouring countries, where governments might fear competition that undercuts their own fleets.