Jonathan Approves Gas To Power Price For Domestic Market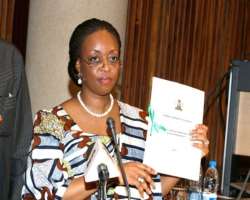 PHOTO: NIGERIA'S PETROLEUM RESOURCES MINISTER, MRS. DIEZANI ALLISON-MADUEKE.
ABUJA, May 27, (THEWILL) - Determined to improve power supply in the country and encourage potential investors and operators in the gas sector, President Goodluck Jonathan has given approval for the immediate implementation of a new gas to power price in the domestic market.
Under the new arrangement, the gas to power will increase to one United States Dollar per million metric British thermal unit ($1/mmbtu) at the end of this year, and by end of 2011 jump to $1.50/mmbtu and subsequently get to $2/mmbtu by 2013.
Petroleum Resources Minister Diezani Allison-Madueke who dropped the hint at the ministerial press briefing in Abuja on Thursday said the new pricing arrangement has been very positively received by the industry and should stimulate a major growth in new supplies critical to both the country's aspirations for power and other gas-based industries.
The Minister noted that the above price will be capped by export parity and at no time will the Power Holding Company of Nigeria will pay more for gas than the export projects are paying, stressing that if the export price on a netback basis fall below the prices above, the lower of the two is what will be paid by the power sector.
The Minister added that the price review is performance based, stating that it is attached to growth in gas supply, explaining further that each price change will be triggered only when the gas sector has demonstrated that it has developed sufficient gas to attain a particular threshold of electricity generation.
The prescribed threshold, according to the Minister are 4.7 gig watts (4.7GW) by 2010, 6.2GW by end 2011, 8.2 GW by 2012 and 8.2GW by 2013, saying that with this linkage to performance, Nigerians are assured that they are paying for growth in supply.
"This change in gas pricing is a major milestone in the repositioning effort of our gas sector and the effective take-off of the Gas Master Plan," she said, noting that with the power sector consuming over 75 percent of the planned domestic supply, it was essential that the country gets the commercial framework right to ensure sustained supply.
On the current gas supply to power, the Minister said that the performance is now at all time high, having completed all critical pipeline repairs that mitigated against the country's successes last year and all gas plants are operating at or very close to full capacity.