Fani-Kayode: Appeal Court says Electronic Document admissable as evidence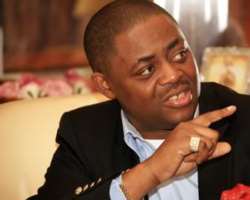 Fani Kayode
  The Court of Appeal sitting in Lagos on Thursday May 28 ordered that electronically generated statement of account should be admitted as evidence in the on-going trial of former Minister of Aviation, Mr Femi Fani-Kayode over money laundering charges.
Fani-Kayode is facing a 49 count charge before Justice Ramat Mohammed of the Federal High Court, Lagos for strange cash lodgements of over N230 million in his account at a Finbank branch in Apapa, Lagos while he was a minister.
 Delivering its ruling this morning in the appeal filed by the EFCC against the judgement of a lower court in which the trial judge ruled that the anti-graft agency could not use the computer print out of the statement of account of the former Minister as evidence against him, the appeal court set aside the trial court's ruling .
The appeal court four member panel of judges in a unanimous ruling delivered by Justice Clara Ogunbiyi said that the only case for determination was whether the computer print out of the statement of account of the accused is not admissible under the evidence act. They ruled that the appeal was meritorious and therefore allowed . They added that the decision of the lower court was set aside because computer print out is admissible as evidence under the evidence act. The judges therefore ruled that Fani-Kayode's statement of account should be marked as exhibit D by the trial Judge.
Fani-Kayode was last year arraigned along with others by the EFCC before a Federal High Court in Lagos on charges bordering on money laundering. During the trial, his lawyer, Ladi Williams had raised an objection to the computer print out of Fani- Kayode's  statement of account which the EFCC tendered as evidence that the former Minister laundered bribes through his bank account. While agreeing with the defence counsel that computer generated document cannot be admitted as evidence, the trial Judge upheld the objection in his ruling.
The trial was however stalled as the EFCC counsel, Festus Keyamo filed an appeal against the ruling.