AT FIDSON, IT IS HEALTHY LIFESTYLE FOR ALL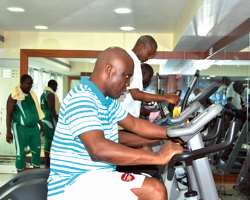 At the gym
While staff of many companies would rush out of their homes to be at duty post by 7.30am, those of Fidson Healthcare Plc would be rushing to the office to work out in their well-equipped fitness centre before hitting their jobs each morning. That is the idea behind the inauguration of the Fidson gymnasium located inside their ultra-modern office on Ikorodu Road, Lagos.
It is all part of the efforts at ensuring a healthy lifestyle for the staff, the Managing Director, Mr. Fidelis Ayebae, said at the opening ceremony. 'We have always dreamt of providing a work environment that is different from normal work environments. In Japanese companies, they have something like this which they say heal the soul and physical body. So also the Chinese. What we are doing is a complete paradigm shift. We want to advocate wellness, encourage a healthy lifestyle so that members of staff don't fall sick. Sickness costs a lot in terms of productivity. We are advocating a conscious society that is conscious of its wellbeing,' he said.
The drug manufacturing company is embarking on a wellness campaign targeted at encouraging a healthy society. However, charity, they say, begins at home. So, it has instituted a policy which encourages staff to leave their offices at given times in the day, especially after lunch, to exercise a bit.
'People sit in their offices for five hours and it is not healthy. People should walk periodically. We have our theme song and at 3.30pm, people will leave their offices and move up and down two stairways. People feel drowsy after lunch. Rather than take caffeine, take a walk. The lift will not go on till 9.30 am so that members of staff take the stairs and by 5pm, the lift will be switched off.
It makes people to be more productive and it pays good dividend. There will be a lot of activities on wellness campaign so that Nigeria will have a wellness population rather than a population that is dependent on drugs,' he said.
And part of its wellness policy is to encourage all staff to take interest in the fitness centre though it is not compulsory. For the female members of staff who may find it difficult to work out in the mornings, the gym is also open in the evenings and there is also a bar where the staff may relax in the evenings.
One would have thought that the company would be more interested in selling their products, but Ayabae explained that apart from curative medicine, provision of preventive medicine is also part of healthcare. 'A lot of our guys who go to see nurses are no longer doing that. A medicine selling company advocates the right lifestyle. We also bring in nutritionists to give talks on nutrition.'
To maintain a healthy lifestyle, he advises two glasses of warm water in the morning to help the system and two litres more each day. In addition, lunch should be taken early and dinners should not be taken later than 7pm, and 'don't eat pounded yam at night.'
In a statement the Media Relations Officer, Mr. Adejuwon Soyinka, said that the company has taken the initiative of leading the wellness generation, having realised that the world has entered the age of wellness and preventive medicine. 'One of the ways the healthcare giant is proactively ensuring this is through the entrenchment of a wellness policy in the workplace to ensure that Fidson staff stay healthy, fit and achieve wellness in its totality,' the statement said, adding that the company is encouraging the use of the sport facility for its executive management team and has instituted a reward system for other staff members that engage in fitness activities.