Madumere And His Many Marriages:  the Untold Story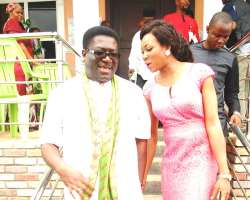 Since last Sunday, June 11, 2017, the social media has been awash with the story of thanksgiving and reception of a four month old marriage between Imo Deputy Governor, Prince Ezeakonobi Madumere and his new found love, Princess Chioma Rosemary Madumere (nee Onyekaba), which held at the Chapel of Praise of Anglican Communion at his country home, Lake Malinda, Achi-Mbieri, Mbaitoli local government of Imo State.
While we celebrate the invention of internet and social media, again some minds are miffed by the activities of some e-media practitioners if not overnight who for reasons hurriedly ventures into issues without proper investigation. This is the only cogent reason why our correspondent decided to go all hug to unravel the core issues behind Madumere's much touted exposedly marriages.
According one of the close aides of Imo Deputy Governor who was asked to describe his boss, he simply said; "Madumere, a soft spoken great leader, would always prefer not to join issues so as not to bring some people to judgment since it will be of no benefit to him. That is the reason he minds his business and talk less even in the face of all manners of misrepresentations."
It is also a truism that Igbo culture does allow a man to take as many wives as he can so far as he is capable of catering for them. In the traditional Igbo culture, great and wealthy men are also known by the number of wives they have. The issue of polygamy was also for economic reason since Igbo precolonial era was largely an agrarian society therefore eliciting marrying many wives for the purposes of bearing many children who would join hands in expanding their coasts of agribusiness. However, none of these Igbo traditionally established culture could be thrown up as reason for Madumere's three time marriage, none at all because Madumere has always been married to one wife.
Prince Eze Madumere's marriage experience is a pathetic one. His first wife, Nneamaka, who bore him four lovely children stormed out of marriage for no fault of Prince Madumere. Our impeccable source revealed that the woman was said to be a victim of hypnosis of a certain Abuja based false pastor who made her believe her husband's loyalty, humility and life of service to his boss were not ordinary. She was even made to believe that Madumere's political exploit with his longtime friend and boss will bear no fruits. The story continued that she also received an 'apparition' that a certain Minister was her real husband. She heeded this evil pieces advice and left her husband's home leaving her children bare and unprotected.
Madumere, a lovely husband and father as many who know him would quickly submit, fought the battle of his life to recover his wife for two good years. Our source disclosed that Madumere died in spirit and could not consternate the reason he could lose his wife of many years. It was revealed that even the Imo first family waded into the matter with well-wishers and relatives and did all they could but to no avail. Our source therefore averred that it is wrong for anyone to stand on assumption of what is being read on social media to blame Madumere. Our source revealed that the erstwhile wife of Madumere came back after eight years she stormed out of their Abuja home leaving their children like sheep without a shepherd begging for acceptance but it was already late.
On Madumere's second attempt at marriage, our source from Obazu Mbieri described the project as dead on arrival. He insisted the marriage was consummated under pressure though Madumere had preferred taking his time but his nomination as a deputy Governorship candidate generated so much pressure that he had to settle for the Obazu born lawyer, Adaego Nosiri. Our source from Mbieri disclosed that it was a marriage of convenience that was bound to fail. They hardly knew each other. Discovering the nature of his estranged wife, Prince Madumere was said to have turned a prayer warrior, seeking God's intervention barely 4 months into the marriage. As the people of the book would say, what is unwritten is not written. Because of the heat of the relationship, according to our source, this accounted for Madumere's loss of interest in hurrying to the altar after the traditional marriage to consummate this marriage. Adaego as it was alleged pried into areas even Angels abhorred to thread. She delved into issues that bothered on the running of the government as she would insist on seeing all files, which nearly put aides of the deputy governor into trouble.
According to our source, the said Mbieri born lawyer was never sent out of the official residence of the Deputy Governor. She allegedly chose to walk out of the marriage when she realized her long lists of unpardonable mistakes, more heinously as alleged, having committed a marital blunder, which even the Bible abhorred, in some of her alleged inexcusable trips to Abuja where she was found where she ought not to be. It is also on record, according to our impeccable source, who threatened to oblige us proofs that Adaego while leaving parked enough 'properties' from Madumere's official residence.
For Madumere's older brother, Prince Chijioke in his reaction, he said; "Rather than throw tantrums at my brother, Madumere, people should praise him for his beautiful gift of patience, long suffering and controllable spirit. He has been a single father for many years and no one would understand what he has been through managing office and affairs of his kids especially their moral life. In one of the interviews he granted to one of the national dailies, he revealed that he does not go to bed until about 1 to 2am in the morning, talking to his children and asking them to account of their daily activities both at home and in school. This is not unconnected with his avowed sense of responsibility as a father, who never shirked the responsibilities of fatherhood.
Madumere's decision to take to alter his new found love should be encouraged and applauded because finding love in Princess Chioma means he must have found in her what he longed for these long years of suffering and pain. This could be seen in his decision to take her to the altar as well as the overall happiness and peace all around him, which he dramatized during his thanksgiving ceremony with his lovely wife. Family members, friends, well-wishers and political associates who were present at the thanksgiving ceremony all testified they have never seen him so happy neither has he ever danced so well in the many years they have known him.
Princess Chioma Madumere has this to say about her marriage and the numerous ill comments made by some people on the reason for her marriage to Madumere; "It is only right for feeble minds to think that after my years of exposure and achievements at such a young age in life that I'd settle for a man because of fame and money. Those who refer to me as a person in search of fame and money clearly have no idea who I am, what I do for a living and what my principles of life are and for this reason their comments hold no water. They probably did not care to find out if I already was famous and comfortable in life or not as well as if fame mattered to me. It is a usual norm here in Nigeria that once a young lady marries an elderly man and he happens to be wealthy, then the reason for the union can only be nothing else for money. Yet when a young girl marries a full grown man who is poor they say it must be charm, madness or desperation to have a husband. These people forget that money can't keep marriage neither can it buy true love and happiness. All the same, these comments do not in anyway hit me as a surprise neither do they perturb me because I owe no one any explanation for my choice of a life partner. Many say I must be blind to have chosen him after all the scandals attached to his personality and my response to them is simply "Love is blind. It's gentle, it's kind, it keeps no account of wrongs and it condemns no one".
Hitting back at critics further, she said; "Neither those whose hobbies are to criticise others are, in the true sense, better than their critics and it is only expected that there would always be two sides to a coin as people would often than not prefer to remove the twinkle in your eyes before thinking of the heavy logs in theirs. I have made my choice and I'm proud of the man I chose to spend the rest of my life with. All I pray is that God perfects our union and keep us happy together forever. I know that God's divine wish for us is of good and not evil, which will continue to manifest in our lives. For those who are watching to see us fail in this journey we wish you well and for those who wish us well in this journey we also wish you the same. All we are and all we'll be is only in the hands of God and no man can say No when God has said Yes. We are both happy together and we love each other very much which is more important to me than anything else."
Princess Chioma Rosemary Madumere, a graduate of English and Literary Studies from Abia State University, Uturu is a multi-talented award winning writer, a poet, novelist, motivational speaker, Brand expert, ex-beauty queen, Publisher/Editor-in-Chief, All Times Global Magazine, the founder of Beauty and Brains Foundation and MD/CEO of B.B.F printing press Nig. ltd.
Mrs. Madumere also warned mischief makers to be wary of what they say and should not be quick in buck passing, saying that it is always more honourable to cross-check their facts since it is safer to speak from an informed position.
Hilary Chinedu Okere is a Lagos based Journalist

Disclaimer:

"The views/contents expressed in this article are the sole responsibility of the author(s) and do not necessarily reflect those of The Nigerian Voice. The Nigerian Voice will not be responsible or liable for any inaccurate or incorrect statements contained in this article."