How Taraba State Governor wasted N150bn in two years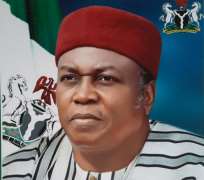 Coalition of Progressive Political Groups and Civil Societies in Taraba State have accused Governor Darius Dickson Ishaku of wasting N130bn in the last two years.
The group responding to series of achievements reeled out in celebrating Governor Darius's two years anniversary said the Governor cannot account judiciously for the over N150 billion received by his administration.
In his speech, Governor Darius Ishaku reeled out a number of 'achievements' in road, power and water supply projects in the state, the group described them as fictitious , dubious polemics, seizure of other people's projects and apportioning of blames for its massive and glaring failures.
In the twelve page theatrical address which Governor Darius mentioned about four multi-dimensional challenges he faced has 'Insecurity, mounting public debts which include unpaid dues to civil servants and public servants, low morale in the public services and of course, empty treasury.'
The group in a detailed statement signed by its Chairman, Dr Goodluck Manasseh and Secretary ,Comrade Jibrin Mohammed said despite all the polemics presented in his speech, Governor Darius gave no report that he has solved any or all the problems enumerated.
The group urges the Governor Darius to stop using mounting debts and empty treasury to explain his glaring lack of performance, misappropriation and mismanagement of scarce resources.
"In September 2015, the Darius administration received N9.6 billion naira as bailout funds from the Federal Government. In November 2015 it also received another sum of N10 billion as loan from the Zenith Bank in the name of second bailout funds. In January 2016, again the government collected about N900 million naira loan as counterpart fund for the Primary Education Board. All these monies totaling over N20 billion, were not used for the settlement of salaries, pensions and other claims to civil servants and public officers as directed by the Federal Government but brazenly diverted to settle unexplained debts. There was no construction of new infrastructure or the rehabilitation of old ones as being claimed, until recently when the government started renovating the Wukari General Hospital .
"The state government receives an average of N3billion naira from the Federation account and this will translated to about N72 billion during Governor Darius reign. In fact an online financial news portal had reported that in 2016 alone, the Taraba State Government received N62 billion naira. In addition the government receives an average sum of N1.5 billion naira monthly as budget support fund from the Federal Government, also amounting to about N36 billion. If this is added to the Paris Club refund and other sundry receipts from the Federal Government for the past two years, Taraba State would have received over N130 billion excluding local government funds. Where have these monies gone to? Where was it spent? Where are the projects? Why are salaries, pensions and gratuities not being paid fully?" the group asked.
They also wondered why, the government will waste over N2billion on a so called green house project in an agrarian state like Taraba which has vast land, adequate rainfall, rivers and lakes.
"This type of project is only suitable for countries experiencing harsh weather condition like, low rainfall, drought and snowy cold. Two billion naira would have revolutionized agriculture in Taraba by the massive supply of Tractors, land clearing equipment, supply of chemicals and seeds to thousands of farmers in the state. How much revenue can cucumbers yield to the state and how many farmers are involved in an agricultural programme like this?"
The group noted that Governor Darius Ishaku is still diverting attention from this major failure by singing his cliché "Give me peace and I will give you development", as an excuse of not facing up to the task of developing the state. "The state of Israel is on twenty-four hour security alert and yet it continues to develop astronomically. "There is no state in Nigeria that is totally free of insecurity and yet the Governors have delivered a five-star performance in social and economic infrastructure. For instance Governor Jibril Bindow of Adamawa has delivered over one hundred township roads in Jimeta, Yola, Mubi, Numan Guyuk, Shelleng and Ganye."
The group said Governor Darius is managing the state in a manner as to rubbish the integrity of others, divide the people along ethnic and religious lines and promote distrust.
"By now, an administration which had spent two years in power, should have taken full charged of its responsibilities, but instead it has continued to sulk and constantly looking over its shoulders as if being chased down or stalked by perceived enemies
Unpaid Dues of Civil and Public Servants/Low Moral
The said for the first time in about two years Governor Darius Dickson admitted failure to adequately and effectively pay worker's salaries and wages, blaming it on 'ghost workers syndrome'.
"As we speak, state worker's salaries are being paid by a ghost salary consultant who is said to reside in Abuja or Israel. The ghost consultant has no visible office in the state as he is said to post salaries from Abuja. As a result, salary figures are determined and paid at will by the consultant.
Civil servant neither enjoy yearly incremental rates nor variations or implementation of promotions but rather just lucky to receive salary alerts. Omitted or under-paid civil servants have to wait for months agonizingly moving from office to office trying to restore their full salaries.
The issue of 'demoralization' spoken of by the Governor as a problem has even gone beyond that. The hard truth is that the civil service in Taraba State has totally collapsed as the ministries, departments and agencies have virtually shut down due to lack of funding. Over ninety percent of those MDAs have not received a single kobo as running cost in the last two years, a situation that has grounded the service and impoverished government workers. Taraba State, surely has never contemplated this worst moment as they are presently experiencing. As for the local governments, the problem is beyond redemption. The entire local government administration in Taraba State has been decimated or in simple terms, destroyed, as all the workers have virtually relocated to Jalingo, the state capital in pursuance of their salaries. Both the local government workers and primary school teachers are being owed salaries between eight and twelve months. The monthly local government Joint Account Meeting has all been cancelled as both the Chairmen and their workers are paid from the Bureau for Local Government with no single kobo to run their local governments.
The summary of this sad spectacle, is that only the Governor's office and the State House of Assembly are functioning in the state, as commissioners, advisers and other public servants are silently suffering through this autocratic and personalized system."
Projects
The group said the only road constructed by the Darius administration is the 3 kilometers Kona road handled by Moulds Engineering works. "The road envisaged to reach Lau has since stagnated at Kona. There are also other small adjoining roads handled by TARCMA, a State road maintenance agency, totaling less than two kilometers." The coalition added that Darius administration neither initiated nor constructed the Bali to Gashaka road.
" it is an open fact that the project was designed and awarded by the UTC administration at a cost of N17 billion has since stopped at Mayo-Selbe at the foot of the Mambilla Plateau. The UTC administration had already settled 70% of the contract sum, but the present administration has failed to adequately fund the project to ensure early completion. All the Darius administration has been doing in the past two years was to drop small money to contractors to construct side drains and arms so as to manage the road to Maisamari near the Governor's tea farm.
"The construction of the Takum-Kasina Ala road was started by a task force under the UTC administration and completed under Governor Darius by the Taraba Quarry Company in collaboration with TARCMA. The College of Nursing and Midwifery was re-opened by the UTC administration after a four years closure by the previous administration. The construction of the College of Nursing Permanent site was also reactivated after four years by Acting Governor Umar UTC as well as the completion and commissioning of the Takum General Hospital. Also many electrification projects in Zing, Lau and Bali Local Government Areas initiated and completed by Umar UTC were commissioned by Governor Darius without any acknowledgement.
"Similarly many roads constructed by the administration of Governor Danbaba Suntai and even Jolly Nyame in the case of Magami road, were not credited to the rightful initiators. The same goes for the Jalingo Urban Water Project initiated by Governor Danbaba in 2009."
They said the posturing of Ishaku's administration on these projects create the wrong notion that it did more than his predecessors to actualize the project.
But to continue to promote hatred, vindictiveness and mutual distrust can only distract the mission and create despondency and ill-will among the people.
The group said Governor Darius and his government have refused to detoxify or moderate the distractive and needless war of attrition with previous administrations, particularly former Acting Governor, Alhaji Umar Garba UTC, to the extent that, more than two years after he left office, his name has continued to be recurring decimal in the administration's abysmal performance. It is as if the government's problems centered on UTC and yet Governor Darius did not directly take power from him.
Disclaimer:

"The views/contents expressed in this article are the sole responsibility of

ayo oloye

and do not necessarily reflect those of The Nigerian Voice. The Nigerian Voice will not be responsible or liable for any inaccurate or incorrect statements contained in this article."