HE HAS TRAFFICKED 51 BOYS, GIRLS INTO EKITI — NIS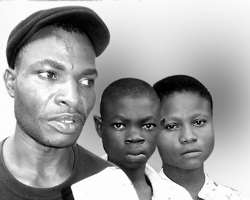 Edet, Ibiang and Usang
The task before Sunday Edet is an onerous one. He says he is innocent of the human trafficking charges levelled against him by the Nigerian Immigration Service. Yet, Edet was apprehended with two suspected trafficking victims.
The NIS also alleged that he had sold 51 boys and girls into modern-day slavery.
But Edet claimed that he only helped people to look for jobs and took N5,000 commission on their N72,000 annual wages for his efforts.
'I don't sell human beings. I am a security man at a petrol station. But I do assist our people who are looking for job. I have assisted in bringing 25 people to the state, but it is always with the consent of their parents,' he said.
Going by the documents recovered from his residence at Oke-Ureje area of Ado-Ekiti when officials of the Immigration went for him and his collaborator, Omini Effiong, on Tuesday at his Oke-Ureje residence, the NIS said the suspects enjoyed the patronage of top politicians and business people in Ekiti.
Apart from documents suspected to have been filled by his clients, a girl and a boy suspected to be victims of human trafficking were also rescued at the residence.
Effiong was inconsistent when questioned about the victims. At first, he said the girl was his second wife but later he said she was his girlfriend.
An official of NIS, who craved anonymity said, 'We have arrested their kingpin. We found two victims in his custody and a collaborator. They were found in a room at Oke-Ureje area. We discovered that he has sold 51 victims into slavery through his agency.
'We discovered that he has a recruitment agency; Eko Employment Services. The office of the agency, according to the recruitment form discovered is at K& D Guest House, Ado-Ekiti.'
He also said that the NIS would begin to swoop on those suspected to be using underage persons as their house help in order to stop the business.
The rescued victims who identified themselves as Blessing Usang 18 year-old and Emmanuel Ibiang, aged 17, told our correspondent that they came to the state about two weeks ago.
Usang, who looked dirty with patches of eczema all over her body, said that Edet accosted her on the road in Cross River and promised to find her a good job.
The teenager said that her parents were not aware of her whereabouts as her 'captor' did not give her the opportunity to bid them farewell before Edet her brought her to Ado-Ekiti.
She complained that she was maltreated at the house where she and other were camped.
On his part, Ibiang, who is a sickle cell patient, said that he had not tasted any other food since he came to the state apart from gari and water.
The immigration official said that the suspected human traffickers and their victims would be moved to the office of National Agency for the Prohibition of Traffic in Persons and other related matters in Lagos. While the victims would be rehabilitated and reunited with their families, he said the suspects would be prosecuted.