FANI-KAYODE: COMPUTER PRINTOUT IS ADMISSIBLE — APPEAL COURT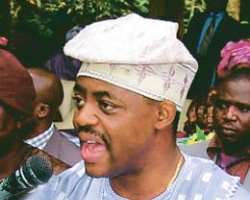 The Court of Appeal in Lagos on Thursday set aside the judgment of Justice Ahmed Mohammed of the Federal High Court in Lagos and held that computer-generated statement of account of the former Minister of Aviation, Chief Femi Fani-Kayode, was admissible as exhibit.
The Economic and Financial Crimes Commission had through its lawyer, Mr. Festus Keyamo, sought to tender the document as exhibits to prove its alleged money laundering case against the ex-minister.
But the lawyer to Fani-Kayode, Chief Ladi Willilams (SAN), opposed the application on the grounds that the document was inadmissible.
Justice Mohammed had in his ruling, refused to admit in evidence, the computer printout statements of account of the former minister.
Dissatisfied with the ruling of the lower court, the EFCC had appealed against the verdict and urged the appellate court to set aside the decision.
In its unanimous judgment delivered by a Justice of Court of Appeal, Justice Adamu Galinje, the appellate court held that the appeal filed by the EFCC was meritorious and ought to be allowed.
Having summarised the arguments of the parties, Justice Galinje, who delivered the lead judgment, held that computer-generated statements of account form part of the 'Banker's Book' of record in the day-to-day banking services.
He said, 'I find the appeal meritorious and it ought to be allowed. The decision of the lower court is set aside. The computer-generated statement of account is hereby marked as exhibit D by the trial judge.'
Two justices of the Court of Appeal, Clara Bata Ogunbiyi (presiding) and Monica Dongbam - Mensem, concurred with the lead judgment.
Meanwhile, Fani-Kayode has faulted the decision of the appellate court, saying that he is approaching the Supreme Court for redress and to set aside the judgment.
Speaking through his lawyer, the ex-minister said that the decision of the appellate court amounted to reversing an earlier position of the apex court on the matter.
He said, 'Up until now, we have not been given any reasons as to how and why the Court of Appeal came to its decision because it did not read out the contents or give us copies of their ruling.
'Whatever its reasons are we will certainly go on appeal to the Supreme Court on this crucial point of law and in this matter.'