Come back to home to the east, MASSOB tells Igbos in the North in reply to northern youths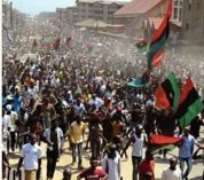 The northern youth on Tuesday beat the ugly macabre tune of war, and their counterparts in the southeast Nigeria are not unwilling to dance the horrific dance.
It was meant as a treat to scare the Igbos out of their renewed agitation for a sovereign state of Biafra, the threat to expel the Igbos from the North by October 1, has achieved the opposite effect of ratcheting up the building tension in the country arising from the agitation.
Barely 24 hours after the some of northern youths issued the threat, the Movement for the Actualization of Sovereign States of Biafra (MASSOB) has a response:
a call  on  Igbos living in the northern part of the country to start returning home following the quit notice issued to all the Igbos in the region is by the Coalition of Northern Youths.
CNY in a statement on Tuesday, June 6, in Kaduna, issued a three month ultimatum to Igbos to vacate the northern region or be evicted. The group threatened that from the 1st October, 2017, it will begin to prove to the whole world the north was no longer part of any federal union that should do with the Igbos.
 In reaction to the notice given by the northern group, MASSOB leader, Comrade Uche Madu, in a statement, said the quit notice did not come as a surprise.
"MASSOB is aware that such rascality will happen. As a matter of fact, this is the only rascality exhibited by sponsored Arewa youths to forcefully exit the people of Biafra residing in Arewa land that MASSOB will 100 per cent support.
Their Boko Haram tactics didn't work as planned. We pledge our total support towards this divinely approved quit notice." "MASSOB congratulates the Arewa political, religious, traditional and opinion leaders who sponsored their youths wing by using Arewa House in Kaduna for this greatest meeting of a coalition of Islamic fundamentalist,"he said.
MASSOB pleaded with Igbos not to wait for the three months quit notice to expire before they vacate the region. The pro-Biafra group charged Igbos to re-invest their investments in what it described as Biafra land.
"As there is no other alternative to stop Biafra freedom, the northern leaders have resorted to using their youths wing to start terrorising the people of Biafra living in the northern region.
"What they saw during the sit-at-home exercise to mark the 50th anniversary celebration of Biafra declaration by General Chukwuemeka Odumegwu Ojukwu marvelled them irrespective of the promises made to them by their stooges in Biafra land,"
MASSOB noted.