Nigeria To Detail 2010 Oil Bid Round In Next 4 Weeks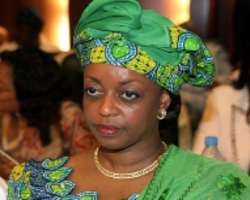 PHOTO: NIGERIA'S PETROLEUM RESOURCES MINISTER, MRS. DIEZANI ALLISON-MADUEKE.
Nigeria will announce details of its upcoming 2010 oil bid round in the next four weeks, the OPEC member's oil minister said on Thursday.
"Within the next four weeks, you will be hearing an announcement from us," said Petroleum Minister Diezani Allison-Madueke when asked for an update on the bid round.
She said the ministry was finalizing which Nigerian fields will be made available to domestic and foreign oil companies.
"We are working on both the marginal fields and the 2007 bid round which was inconclusive."
Nigeria's 2010 budget estimates federal revenue from signatures bonuses in this year's bid round will total around 132 billion naira ($880 million).