Time to get behind the Super Eagles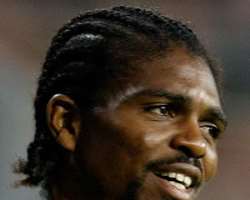 --By Jude Egbas
Listening to all the hullabaloo on Nigerian Radio stations on the 'Eagles' lack of preparedness going into the mundial; reading articles from soccer pundits in Nigerian dailies on what a poor squad Eagles' gaffer Lars Lagerback has assembled; you would think the most honourable thing for Nigeria to do was write a letter to FIFA indicating in clear and unmistakable terms why it would be withdrawing from participating in the first world cup to be staged on African soil. The hue and cry over the Super Eagles has left one wondering if as Nigerians we are not our own worst enemies.
A few weeks after Shuaibu Amodu was relieved of his responsibilities as the Manager of the team after several uninspiring and lethargic displays, Swedish Lars Lagerback was handed the reins. His first real test will be at the world cup, not before. After watching several video tapes of his team from previous outings ( which was the least he could do taking into cognizance the short time he had before a major tournament), Lagerback settled on a provisional list of forty four; from which he would later choose thirty players of Nigerian descent who are plying their trade in various leagues abroad, with a few home based players also getting a look in.
But you would think he was the antichrist. The local media has been literally lying in wait for any misstep from the Swede. Once on a trip abroad to see some of the players he would be working with, several newspapers stopped short of declaring him missing. As he took a break from up, close and personal meetings with his players to spend a day or two with his family in his native Sweden, the Nigerian sporting press went gaga—asking him to get back to work quickly or risk being shown the exit door. Excerpts from interviews with some of his foreign based players indicating they had not set eyes on Lagerback in Europe, gradually crept into the front pages. He has been lampooned for going to the world cup with 'tired legs', hung to dry after defending his team selection, and pilloried by armchair critics who dot the entire geographical region called Nigeria.
advertisement

All this before a major tourney and just when you think the Eagles and their manager need all the goodwill and blessings from Nigerians before they depart our shores and during the football fiesta. Almost everyone has an opinion; some, even going as far as asking Amodu to stage an unlikely comeback to a team he almost led to the brink of extinction.
Lagerback's choices of thirty players are arguably the best crop of players he could garner at the moment. Until his exclusion from the world cup party owing to injury, England's David Beckham; a player on the wrong side of thirty, would have been a likely pick by his manager and on the plane to South Africa as one of Capello's 23 man army. In that same squad will be a Jamie Carragher, who was admittedly dealt a fair hand after a slew of injuries almost decimated the entire English backline. But Lagerback, hearing the 'aficionados' argue, should be sent to jail for including the likes of Kanu Nwankwo, Joseph Yobo, Yakubu Aiyegbeni and John Utaka—players who have become the new 'tired legs' in the team—in his world cup party. One wonders how 'tired' a 'leg' a Yobo is; a player who was a regular for his club in the most physically demanding league in the world before a groin complaint reduced
his appearances in the close season. And the Yak? On his day, no one in the land knows his way to goal better. His goals to game ratio in the Premiership are a testament to his poaching abilities. What about Kanu? He may have lost several yards of pace but his intelligence and subtle touches could prove invaluable to the Eagles' campaign.
I have cast a wary eye over Europe to pinpoint particular players who didn't make the World Cup cut and who should have taken the place of any one of Lagerback's players—I am yet to find any. Only 23 players make it to the World Cup for any of the participating teams. A combination of factors like grit, experience, discipline, skill and teamwork are essential for any team who intend to lift football's top diadem and Lagerback's team—with a few days together—may possess those in spades. All national team coaches only had the benefit of working with the full complement of their squads only recently as the European season only just winded down. Therefore, complaints about lack of friendly games to knock the team into shape before this time are at best diversionary and completely baseless.
What the Super Eagles will require as they brace up to battle against the world's best players is the support of all Nigerians at home and abroad. Let the supporters' club get ready to thrill us with those head banging Nigerian songs that propelled the Eagles' of old to those beautiful tournament performances we all like to recall with nostalgia. Let every Nigerian who loves this team drape themselves in a replica of the team's outfit on match days. Let's show this team that we love them and watch how far they can take us. Our support will be their rearguard in the Rainbow nation.
And who says we are not in the World Cup to win it?
Disclaimer:

"The views/contents expressed in this article are the sole responsibility of the author(s) and do not necessarily reflect those of The Nigerian Voice. The Nigerian Voice will not be responsible or liable for any inaccurate or incorrect statements contained in this article."