2019:  A Replay Of The War Between "David And Goliath "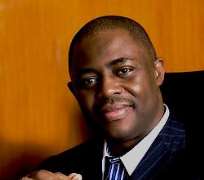 "Goliath stood and shouted at the Israeli Army 'What are you doing there, lined up for battle? I am a Philistine, choose one of your men to fight me'
Vs (9) "If he wins and kills me, WE WILL BECOME YOUR SLAVES , but if I win and kill him you will be our slaves.
Vs (11) when Saul and his men heard this they were terrified
The story continues in verse 26:
Vs (26) "David asked the men who were near him, 'what will the man get, who kills this man and frees Israel from this DISGRACE? After all who is this philistine to defy the Army of the Living God" (Nigerian Christians)
Vs (37) "David said to Saul, 'Your Majesty, No one should be afraid of this Philistine; I will go and fight him.
Vs (45)
David answered, you are coming against me with sword, spear and javelin, but I come against you in the Name of the Lord Almighty, The God of the Israeli Army (Nigerian Christians) which you defied
Vs (46) "This very Day, The Lord will put you in my power; I will defeat you and cut off your head, and I will give your body and that of your soldiers (Partners in crime) to the birds and animals to eat
Vs (47) "And everyone here will see that the Lord does not need swords or spears to save his people. He is victorious in battle."
The end of this beautiful drama is a well known story.
Today Christianity has been mocked, raped and insulted in Nigeria particularly. Recently an American Report stated that Nigeria remains the most Dangerous place for a Christian to live in.
So many churches have either been burnt or demolished, so many Christians slaughtered or beheaded without provocation,
In fact, Christians has been turned into sports to be killed at will for the demonic pleasure of the Satanic Fulani Master. Several of our sons indoctrinated , radicalized and hypnotized into killing members of their very own families
Our wives and daughters raped and taken as spoils of a war we are yet to agree is imposed on us. At will, when they are tired of this young innocent and violated girls, they perform some spiritual demonic rituals upon them and lead them out to go and blow up themselves with the sole aim of killing more Christians.
This is the very unfortunate scenario the Philistines of our day have enacted amongst us.
We have been challenged to a fight from so many fronts and the Good news is that their time is up.
Heaven is angry and Earth is clad in sorrow, but a DAVID IS HERE
FEMI FANI KAYODE has offered to fight this Goliath, all that the Leadership of the Church need do is to endorse and encourage him.
He needs our prayers and every support, we must delete every imaginary line that tends to separate us, Igbo, Yoruba, Idoma, Tiv, Igala, Birom, Angas, Bajju, Ijaw and all other over 240 Christian dominated tribes in Nigeria. We must remain focused on one word FREEDOM AND JUSTICE.
We must focus on the right to live, the right to worship and the right to be free and no longer to be seen as slaves.
Enough of all these stupid political correctness, enough of self imposed mental slavery, enough of inferiority complex of the son against the actual slave.
Let us all arise and announce to every Christian that FFK has our support, backing and prayers.
He has sacrificed so much and we cannot afford to let ourselves down, our children and children's children.
We are all in this together, let all our ex-Generals forget their interests, fears, pride, ego and wake up to reality.
God Bless you as you share this to every Christian out there.