FINANCIAL CRISIS: NCAA MAY REVOKE LICENCES OF AIRLINES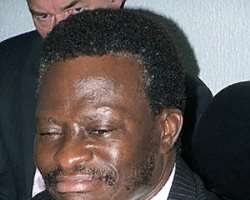 THE Nigerian Civil Aviation Authority on Wednesday began the recertification of airlines, aircraft, pilots and other personnel in the aviation industry.
The exercise, which may lead to the revocation of the Air Operators Certificates of some airlines, especially those that fail to meet the new civil aviation regulations, was introduced to all domestic airlines at the regulatory agency's headquarters in Lagos.
Speaking at a ceremony to mark the beginning of the process, the Director-General, NCAA, Dr. Harold Demuren, said the exercise, which was expected to be completed within six months, should end by March 2013.
The regulatory boss said the exercise would mark 'a new phase of development in the country's aviation sector,' adding that it would put the country's air safety on a 'solid rock.'
Demuren said the issuance of AOC, in line with the new civil aviation regulation, now involved five stages, which must be completed within the time stipulated.
He said, 'The key issue here is the Air Operators Certificate. We have to complete the recertification of the entire industry by March 2011. There are 21 AOC holders as at today in Nigeria. The World Bank has given us some money for the recertification of the Nigerian aviation industry. At the end of the exercise, those who fail to meet up will have their AOCs revoked.
'Nobody can operate commercial aircraft without having a valid AOC. It is good we have the United States Category One status, but we must put our aviation on a strong ground because retaining the Category One is the main issue. Some countries like Ghana and Israel got it and they lost it.'
Demuren said recertification would help the nation to face its challenges.
'We will do everything to help the airlines. We will do everything in form of deregulation, liberalisation. It is all tailored towards helping to make sure that Nigeria has zero-accident and zero fatality levels,' he added.
Expressing the relevance of the exercise to Nigeria and the international community, Demuren noted that the recertification was being sponsored by the World Bank.
Stakeholders, including professionals and pressure groups in the sector, had been calling for the recertification since last year.
The last recertification of airlines was done about six years ago. Over 45 airlines were reduced to about 20 after the exercise.
The calls followed the depleting fortunes of Nigerian airlines in the face of the global credit crunch.
Many of the airlines are saddled with overwhelming debts running into billions of naira, just as several aircraft of some airlines have been grounded and stuck in maintenance hangars overseas due to lack of funds to carry out scheduled maintenance.