AMY WINEHOUSE'S DAD MITCH UNVEILS ALBUM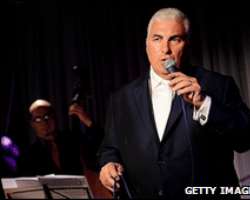 By Ian Youngs
Music reporter, BBC News
Mitch Winehouse said his daughter was "barred" from appearing on his album
Amy Winehouse's father Mitch is to launch his own music career with the release of his debut album.
Winehouse Snr said his daughter encouraged him to go into the studio. "Amy and I spoke about me doing an album six or seven years ago," he said.
"The timing wasn't right, Amy wasn't well. Now she's better and the time is right." Rush Of Love is out next month.
"Am I cashing in on it [being Amy's dad]? I suppose in a way, if the album sells, I will be," he added.
"But that's not why I'm doing it. I'm doing it because Amy and I spoke about doing an album years ago.
"But you cannot deny the fact that I would not be bringing out an album if I wasn't Amy's dad. It's true."
The 59-year-old former taxi driver was speaking at a showcase concert for the media on Wednesday.
But he said that if he was no good, "after five minutes in the recording studio, someone would have said, 'you know what Mitch, this isn't for you, you can't sing'.".
Continue reading the main story
http://www.nigerianbestforum.com/blog/wp-content/uploads/2010/05/47932075_85460588.jpg I don't want her to be full of angst and depression and heartache for her to write an album
Mitch Winehouse
"So I think I've done a pretty good job."
The album contains 11 Rat Pack-style swing songs, including four new tracks written by Tony Hiller, who is best-known for penning Save Your Kisses for Me and United We Stand.
He said his daughter was "barred" from appearing on the album but was in a "great" place at the moment.
It is now three-and-a-half years since the release of Winehouse's multi-million-selling second album Back To Black.
The follow-up is "a work in progress" and will "hopefully" be released in time for Christmas, her father said.
"I've heard some tracks. She takes a long time to grind out an album. She writes from her own experiences and most of the time they're bittersweet experiences, and that's the problem.
"I don't want her to be full of angst and depression and heartache for her to write an album. It's kind of a double-edged sword. I want her to produce an album, obviously.
"But then [not] with all the aggravation and heartache that goes with it. Her songs are really from the soul."