FG, private firms to partner in repairing Apapa Port access roads, which 'll gulp N100bn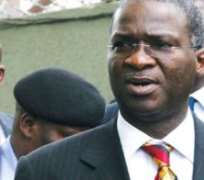 The Minister of Power, Works and Housing, Mr. Babatunde Fashola, has said that the  repair of the dilapidated Wharf Road or Apapa port access roads will cost the federal government the sum of N100billion.
According to Fashola,  the federal government and private firms will soon sign a Memorandum of Understanding (MoU) to enable them invest the amount needed.
He said that when completed, the road will be expected to last for 30 years, explaining that some private firms have offered to provide funding for the reconstruction.
In a statement, the media aide to the Minister, Mr. Hakeem Bello, said the design and other requirements for the repair of the road have concluded waiting for the MOU to be signed.
The statement said that once the MOU is signed, the document will be taken to the Federal Executive Council (FEC) for approval.
The statement also said that work will start in a matter of weeks.
The minister said, "I just want to appeal to residents of Apapa, to people whose livelihoods depend on Apapa, that Apapa is one of the priority roads under our priority of works to solve roads that lead to critical ports.
"We also have Calabar on our radar. But one by one there would be an enduring solution. We've done the design, we've done everything for Apapa, it is ready. It's going to be a concrete road and I believe that will last another 30 years. So we are close to starting work."