Dear Robert Mugabe, Zimbabwe is not a Developed Country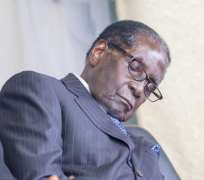 I keenly followed your speech made on 4th May 2017 at the Africa Leg of World Economic Forum, in which you declared Zimbabwe to be the second most developed country in Africa after South Africa. Again for the purpose of clear understanding I read your speech that was later on made available on different online platforms. You had declared Zimbabwe a developed country without showing the social and economic evidence that could help you to prove your argument. President Mugabe, you were wrong, Zimbabwe is not a developed country, it is among the sorriest countries of the world. Unless you were only making claims of its development out of sardonic and wry political gimmicks purported to ridicule your critics like those in the Western audience.
Claims of development go with social and economic evidence that can be measured quantitatively and be seen physically. Currently a country can be estimated to be developed by looking at the quality of its politics, level of technology and its consumption, media freedom, freedom of speech , indiscriminate rule of law, good state of human rights, good ecological and social environment, security of income per individual, fairly long lifespan, fairness in distribution of economic opportunities, modern constitutional position on the term of presidency, gender rights and mainstreaming , good quality of education and freedom from crude ideology , reliable infrastructure, tolerance of social diversity , mild level of inflation , productive nature of land tenure, good degree of social inclusivity in politics and social processes , absence of patriarchy in the social process as well as industrialization with capacity to serve local and overseas customers. The current Zimbabwe is not anywhere in a good position when it comes to the above parameters of development. It has failed to achieve them because of selfishness, tyranny, and poverty of good thought in politics and institutional governance of the.
Reading the 6th issue of Buwa; Journal of rights of Women in Africa, published June 2016 by the Open Society Initiative of Southern Africa (OSISA), which has the office in Harare, the capital city of Zimbabwe, you will find that out of seventy research papers contributed, sixty eighty are all about social problems faced by the people of Zimbabwe due to politics of brutality. It is pointed out in the Journal that the people of Zimbabwe are the leading illegal immigrants (makwere kwere) in South Africa, they are the most abused domestic workers and garment washers around the world, they are mostly the Southern Africa refugees in Britain, they are the most brutalized by the police at home, they form a great percentage of sex workers in South Africa, they suffer most from ethnic animosity at home, that the womenfolk of Zimbabwe are the most subjected to social patriarchy cultivated by Zimbabwean Patriarchal politics and that the sexual minorities in Zimbabwe are the most threatened human beings on earth. How I wish you get a copy and read. It is also free online. You will simply agree with me that Zimbabwe is politically brutalized not developed as you fallaciously claimed in your speech at the Economic Forum.
It is true you can be imagining development for Zimbabwe and for Africa. This is good and it is always an alloy in the political imaginations of every leader whether a democratic or tyrannicalleader,unfortunately, the technical reality is that no economic prosperity will come to Zimbabwe under your rule or even under the legacy of your rule. There is very urgent need to change the structure, guard and organization of the government of Zimbabwe as a basic precondition for initiation of social and economic development projects. Cordial relationship of Zimbabwe with China is not enough diplomatic capital for Zimbabwe's economic progress, China is only taking advantage of Zimbabwe's economic despair and diplomatic quagmire. Zimbabwe needs a young leader with new blood and modern education for it to be restored back from the wild political and economic straggle. And I mean social straggle.
Malicious humour, demagoguery and political octogenarians like those evinced in the likes of RobertMugabe and many other African presidents will not do Africa any good. It is true Africa is the second largest continent, with all the natural resources, good climate, oceans, versatile populations of the youth, deep lakes, voluminous rivers and sand-witched between the Indian and the Atlantic oceans but still Africa needs good leadership both at political and corporate level before these natural opportunities can be harnessed into social success. For Zimbabwe and Africato be developed socially and economically, there is need for special breed of democracy to be achieved through political leadership that respect electoral rights of the people, politics that puts people at the center of the political process, politics which accepts mistakes and it is willing to accept corrections, not selfish politics perpetrated by politicians who are not ready to retire. Such realities have to be accepted by the electorates and politics leaders of the currently sidling Africa for it to achieve a political fettle that can possibly put it on a pedestal for economic and social progress.
By;Alexander Opicho
(From Lodwar, Kenya.)
Mail;[email protected]