How food vendor, Teachers rescue man from committing suicide in Osogbo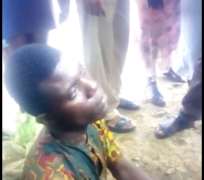 A middle-aged man identified as Babatunde Arogundade today attempted to commit suicide in a bush behind the Christ Africa Middle School in Osogbo, capital of Osun State yesterday but a food vendor sighted him and informed the teaches in the school who prevented the man from killing himself.
It was gathered that Arogundade hung himself to a branch of the tree behind the school and he was already dangling when a food vendor saw him and screamed.
The Peace Corps volunteers and the teachers rushed to the scene, held the man and cut the rope. They brought him down and removed the noose from his neck.
Arogundade was almost lifeless and seeming to be dead as he was lying on the floor. They poured water on him and he coughed but he was unconscious for some time.
When he regained consciousness, the man mentioned his name but he was not okay to enable him state the reasons for his decision to take his own life.
The matter was reported to the Ataoja Police Divisional Headquarter and some policemen came to the location and took Arogundade to hospital for medical treatment.
The Commissioner of Police in the state, Mr Fimihan Adeoye while confirming the incident said Arogundade was responding to treatment in the hospital.
The Commissioner of Police urged relations of Arogundade to come to Osun State Police Command to pick him.