My eviction was real – Bob Manuel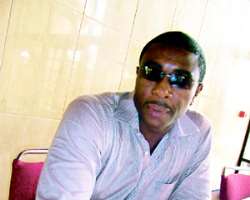 Bob Manuel-Udokwu's eviction from the on-going Nigerian Breweries sponsored Gulder Ultimate Celebrity shocked many of his fans and followers.
The manner he was evicted was even unconvincing as critics believed his eviction was staged managed.
But the Anambra state-born actor of repute was quick to dispel rumours of any sell out, insisting that he lost because it was simply not his day.
Excerpts:
Bob Manuel Was your exit stage managed?
No. my exit was not a stage managed affair. My eviction goes to show that the programme is credible. It also indicates that no matter who is involved, there is no favouristism. The rules of the show must be obeyed.
Now let's get back to my eviction. It was obviously not my day and the outcome of the day's event, I accepted and moved on. It wasn't a planned thing as you are assumed.
My experience should be a lesson to our politicians to move ahead when they lose elections. When you lose, you should do so gracefully and your reputation stays intact.
Significance of GUS
The significance of the Gulder Ultimate Show lies in the fact that you bring in several celebrities in an unfamiliar terrain and show them off in a different light where all comfort and razzmattaz of their lifestyle are removed. And in the process, you are able to capture for public consumption their weaknesses.
It is also good for reflection that life is not a straight road. Sometimes, the road is rough and sometimes it is smooth.
But what matters is the fact that when you win, you maintain discipline and savour your victory with consideration for the losers. That on its own is the real spirit of sportsmanship.
Conduct of Chioma Chukwuka
Somehow, we expressed our inner feelings when we are left in such a deserted environment but again, nothing is beyond people in entertainment industry. Chioma should have let people know what she had in mind and what she wanted to achieve in the jungle. It might be her own strategy to achieving her goal. The same thing is applicable to Muma Gee.
Emeka's ambition
Deep down inside of me, I don't really attach anything to what was seen on TV. We have a society where people love to speculate and so they have the right to assune anything may have happened on set. As I said it's a speculative society we live in.
GUS project
The project is a good innovation. If the organisers make it an annual event, people would wish to see the way some of our celebritie are deprived of comfort. The whole show is a plus for the Nigerian Breweries PLC and the Guilder brand.