OSCA Holds First Inter-House Sport Competition
...Proprietor Lauds Government on O'Calisthenics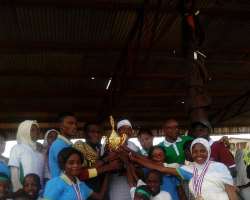 Okanlawon Science Academy (OSCA) in Osogbo, Osun State, has held her first annual Inter-house Sports Competition.
The event, which was held at the Government Technical College, Osogbo main field, featured a number of sport activities which saw four houses competing against one another.
In his opening address, the proprietor of the school, Mr. Ismail Badmus Okanlawon emphasized that sporting activities are an essential part of learning in school.
He said pupils need to engage themselves in healthy sport competitions in order to maintain sound body and minds as well as to promote spirit of teamwork, discipline and perseverance.
He also lauded the introduction of calisthenics into school curriculum in Osun State, saying that it would provide the necessary support for learning.
He then urged the state government to come up with a clear template on how private schools in the state can key into the programme and also called on other proprietors to buy into the programme.
The highlight of the sports competition featured the four houses – Albert Einstein, Aristotle, Chike Obi and Newton – participating in various events such as 100m, 200m, 400m and relay races.
At the end of the 4-hour event, Aristotle House tops the medals' table while Newton and Chike Obi houses came second and third respectively.