Cleric tasks humanity on fervent prayers, dedication to God's commandments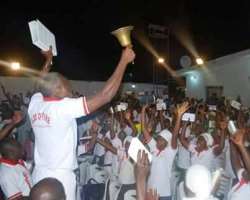 As part of efforts at reviving those who have derailed from the path of righteousness, the Minister in-charge of God of Fire Global Evangelical Ministry (Gofgem), Evangelist Peters Kolajo has admonished people to refrain from all forms of worldly act that can deny them eternal life.
He said people must inculcate the spirit of fervent prayer and supplications while seeking for solution to problems.
The message was part of the Evangelist Kolajo's homily at one of the church's evangelical programme in Osogbo, Osun State.
The renowned religious scholar who identified faith, prayer and sensitivity to God's words as keys to paradise, said it is time for every soul to always place God's interest above personal considerations.
He called on the people to renew their faith and reconcile with their creator, saying paradise is certain only for believers and those who work in the Lord.
Evangelist Kolajo stressed the need for people to always examine their lives and deeds for prompt amendment, adding that man needs to tow path capable of gaining him eternal life in paradise.
The cleric said God has mandated every human being to commit themselves onto Him, saying "heaven helps those who helps themselves."
According to him, "It is pertinent for every soul to accept Jesus as Lord and Saviour and as well reflect good deeds in all he does.
"Jesus came to the world to rescue us from sins, and for this singular reason, we must keep off from things that can make turn us against God.
"We must be prayerful and dedicated to God's instructions and avoid all that could make us to lose the home.
"We need to be truthful and avoid deceit. Deceit is a spirit that has been existing before the creation of man. Devil uses deceit to confuse faith and win souls.
"Devil is the deceiver from time immemorial. He used deceit to truncate the fate of Adam and Eve, let avoid it", he enjoined.