ELECTRIC CABLES, SAFETY AND SKILLS REVISITED.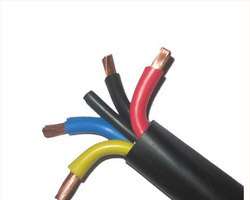 You don't expect whole cables each supplying a single bulb to start igniting needlessly, ...especially when the initial technician is presumably qualified, do you?
But that's exactly what you get when you use Sunrise Cables...or rather, when your technicians is dumb enough...or dubious enough to use Sunrise Cables for you!
You might erroneously put the blame on yourself if such igniting inferior cables had been connected to internal sockets...zeroing it all down to overloading.
But when cables to switches...controlling ceiling fans and single bulbs start catching fire, you wonder how much electrical load they carry to generate such heat...causing fire!
You recall an earlier simpler version of the photo attached showing this electrical installation without the switch that I published earlier?
Well... That, which comprised only the socket was installed then by yours truly to temporarily bypass the house internal wiring and sockets so I plugged things right under the external meter.
But when cables started burning up right inside the ceiling...four at the last count....I had to run wires straight from meter to the two front external lamps! Thus the need for the additional switch.
So, you may need to start keeping a close eye on your technicians....and possibly start learning some new lifesaving, property-saving and money-saving skills!
And avoid Sunrise Electric Cables!
Use only only electric cables made by Nigeria Wire And Cable Company...before your house goes up in flames!
This is not an advert.
Dr Tosin Akindele is a medical practitioner and public affairs analyst.