Borno Lawmaker Expresses Satisfaction With Large Turn- Out, PeacefulConduct of CVR By INEC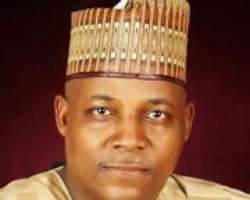 Member Representing Hawul Local Government Area at the Borno State House of Assembly, Hon. Ayuba Wakawa has expressed satisfaction with the large turn-out of eligible voters in the ongoing Continuous Voters Registration (CVR) being conducted by the Independent National Electoral Commission.
He said the massive turn out and cooperation displayed by the people indicates that senstitization and enlightenment which was carried out before and during the exercise have yielded positive results as people will not be desinfranchized in 2019 general elections.
Hon. Wakawa stated this in Azare, the council headquarters of Hawul during his sensitization visit and to inspect the ongoing construction of multi- million naira Mega School and General Hospital, as part of constituency projects undertaken by the State Government.
The Lawmaker commended the people for the peaceful conduct, and urged them to ensure that they all register and obtain their Permanent Voters Card, which according to him, is the only tool that enable them to elect their representatives into political positions for development.
"I want to commend you irrespective of your political divide for your cooperation towards the ongoing CVR. I urge you to ensure that all eligible voters participate in this exercise, as it is the only gateway to enable us elect credible leaders in any future elections.
"We are all aware of the security challenges posed by insurgents in the past which have denied many of us access to obtain our PVCs, but now that peace has returned, we should all put our hands on deck to ensure that none of us is left out in the ongoing CVR by INEC.
"I therefore want to commend INEC officials, traditional rulers, security operatives and members of Civilian JTF as well as our local vigilantees for their unflinching support towards this exercise". Wakawa stated.
He also commended governor Kashim Shettima for embarking on the construction of multi- million naira Mega School and General Hospital in his constituency and for rebuilding of churches and mosques destroyed by insurgents.