MAZDA 3 UNSEATS CIVIC IN CAR SALES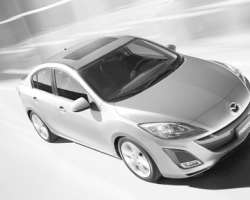 2010 Mazda 3
The leadership battle among auto manufacturers/dealers is not peculiar to Nigeria. It is everywhere.
In Nigeria, for instance, Toyota has remained a leader despite the recent recall crisis and the cash crunch, which has substantially reduced the amount of lending from banks for car financing.
But in Canada, there is a battle raging between Mazda 3 and Honda Civic concerning the highest selling car.
The latest report indicated that the Mazda 3's 5,436 units sold in April outdid the Civic by 135, and through the end of last month the Zoom-Zoom ride leads the Honda by just 21 units.
The report presented by Top News.com on Monday added that apart from the leading two cars, those on the list of April's Canadian top five were the Toyota Corolla, Hyundai Elantra and Hyundai Accent.
It said that Honda Accord topped the list of April's sales in America, followed by Toyota Corolla, Toyota Camry, Honda Civic and Ford Fusion.
The Mazda 3 is powered by a 2.5-litre inline-4 good for 167 hp and 168 lb-ft of torque. A six-speed manual is standard, with a five-speed automatic optional. Estimated fuel economy is 22 mpg city and 29 mpg highway with the automatic.
Standard safety equipment on the 2010 Mazda 3 includes antilock disc brakes with brake assist, active front head restraints, front side airbags and side curtain airbags.
The 2010 Mazda 3 is a class leader in terms of interior design, quality and feature content. Most Mazda 3 sedans and hatchbacks won't be optioned-out Grand Touring models, but they will still greet their owners with high-quality materials, comfortable seats, ample space and easy-to-reach controls.
However, the stereo controls in particular aren't as simple as those in a Civic or Elantra. The optional navigation system features a relatively small display screen, but it is mounted high and costs much less than rival systems.
The Mazda 3 sedan is less spacious than its competitors, but only slightly so. The front seat offers a wide range of adjustment (especially with the optional power seats), and the tilt-and-telescoping steering wheel is a welcome feature.
Reviewers agree that the 2010 Honda Civic is a winning combination of substance and style that has deservedly staked its claim as a class leader.
It is one of the most reliable, fuel efficient and solid-performing vehicles in the affordable small car class.
Although several compacts have more comfort or utility, few cars have captured the media attention for all-around excellence like the 2010 Honda Civic. Unchanged for 2010, it continues to offer the same winning combination of form and function that led Consumer Guide to name the 2009 model a 'Best Buy.'
The Civic isn't flawless. Despite its great performance, excellent fuel economy and impressive list of features, it lags behind certain class competitors when it comes to interior comfort and cargo capacity.