IJAW Youth Council: The Attack On Moses Siloko Siasia At Benin Airport Is An Attack On All Ijaw Youths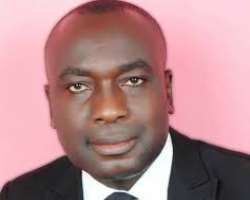 Eric Omare -IYC President
The National Executive Council of the Ijaw Youth Council (IYC) worldwide, Elders and well-meaning sons and daughters of the Ijaw Ethnic Nationality has sounded it loud and clear that the recent unprovoked attack on Peoples'Democratic Party Guber candidate for Bayelsa state, Moses Siloko Siasia at the the Benin airport, by thugs loyal to the Deputy Governor of Edo State, Hon. Philip Shaibu, is an attack on all Ijaw youths,
In a press release made available to the press and signed by the National Spokesman of Ijaw Youth Council Worldwide, Barr. Henry Iyalla, it reads: "We condemn in very strong terms the brutal assault of Moses Siloko Siasia, a very revered gentleman, an accomplished youth from the Ijaw extraction who is well known for his humanitarian services. We are taken aback as to the reason why youths of the Niger Delta that has benefitted immensely from the relentless efforts of Moses will allow themselves to be used as tools in the hands of politicians against their fellow youth.
It will be recalled that Moses Siloko Siasia a former Governorship candidate of the People's Democratic Movement in Bayelsa State accompanied his friend Chief Blessing Agbonmere a chieftain of the All Progressive Congress and a former governorship aspirant in Edo state from Abuja to Benin were pounced on at the airport by loyalists of the Deputy Governor of Edo State Hon Philip Shaibu who boarded the same flight with them without any form of provocation from the duo. This assault was captured on amateur video which has gone viral on social media and in that video it could be heard clearly the violent youths chanting that the duo should be killed and that Blessing Agbonmere had insulted and disrespected their boss Hon Shaibu for so long and the assault will serve as a lesson. The mere fact that immunity is accorded to government officials does not in itself translate to a license to kill, this is the reason the IYC have advocated for so long that the immunity clause for public officials be revisited as the concept of immunity in several occasions has been seen as a tool for oppression instead of enhancing governance.
We use this medium to call on the Governor of Edo State to strongly caution his deputy as such actions would portray his Government as an authoritarian one and put his leadership in bad light before right thinking members of the society.
To this end, we call on the security agencies to properly investigate this matter as the Ijaw Youth Council (IYC) will not fold its hands and watch while such treatment is meted out to one of its own", the release was quoted as saying..