Buhari's health: Obasanjo, IBB, Abdusalam meet in Minna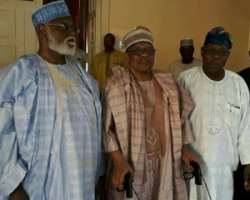 Three former Heads of State,  Generals Olusegun Obasanjo, Ibrahim Badamasi Babangida and Abdulsalami Abubakar, met  on Monday met behind closed doors in   Babangida residence at Hilltop Mansion in Minna, the Niger State capital.
According to reports, the meeting was said to have held over the health conditions of President Muhammadu Buhari, who has been seen only a few times since return from mediacal sojourn to UK in March.
It was learnt that  only Obasanjo,  Babangida and Abubakar attended the meeting.
The trio have directly or indirectly played key roles on the fate of Nigeria since the death of former Head of State Sani Abacha in 1998,  with Obasanjo moving from the prision where he was dumped by Abacha to become President of Nigeria from 1999 to 2007..
The Niger State Governor, Alhaji Abubakar Sani Bello, who picked Obasanjo from the Minna International Airport, was excused shortly before the meeting commenced.
The meeting was said to have lasted over two hours.
Sources within the Hilltop residence of Babangidawere cited as saying that the  three former rulers considered the implications of the exit of Buhari at this point based on the unwritten arrangement for the rotation of the Presidency between the North and the South and the fallout of the emergence of former President Goodluck Jonathan after the death in office of former President Umar Yar'Adua.
The reports indicate that the concern centre largely around the response and approach that should be taken in the case of Buhari exiting the Presidency at this time.
Since his return from the United Kingdom for medical treatment over a month ago, Buhari has not been seen in public except twice when he went for the Friday prayer at the Aso Rock mosque.
He has not attended the weekly Federal Executive Council meeting in the last three weeks.
One was cancelled based on the excuse that the secretariat could not put together the files for the meeting.
It has been rumoured that Buhari has offered to step down in order to attend to his health, but has been restrained by a cabal who have been the invisibile hands behind his Presidency.
According to the reports,  measures were put in place to ensure that the meeting was   a closely guarded secret.
It was learnt  that Obasanjo was on arrival led straight to the inner meeting room of the Hilltop mansion where Babangida and Abubakar were already waiting for himand might have left left the Hilltop Mansion in the late hours of Monday unnoticed