Nollywood Missing When Hollywood and Bollywood Dazzled At the Cannes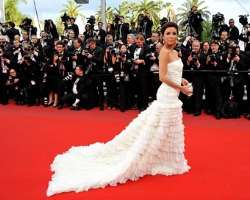 The highlights of the closing ceremony of the last Cannes Film Festival were colourful. Hollywood and Bollywood stars had a lot to show at the 63rd Cannes Film Festival, but no single Nollywood star was on the red carpet. Aishwarya Rai was turning heads at the publicity for Raavan and at the screening of Wall Street: Money Never Sleeps and another Bollywood sex symbol Mallika Sherawat was in the news for Love, Barack. Nollywood was missing in action, except for Stephanie Okereke whose romantic comedy Through the Glass was promoted by her Canadian distributor at the Cannes Film Market.
Indian actress Aishwarya Rai arrives for the screening of the movie 'Wall Street - Money Never Sleeps' during the 63rd Cannes Film Festival in Cannes, France, 14 May 2010. The movie by US director Oliver Stone is presented out of competition at the Cannes Film Festival 2010, running from 12 to 23 May. EPA/CHRISTOPHE KARABA
There were few Nigerians at the festival and they came from the new Africa International Film Festival (AFRIFF), Nigerian Film Corporation (NFC), Lagos State government, The Guardian, The Nation and Supple magazine.
"Most of the Nollywood stars shy away from the Cannes, because they are not recognized as stars there. In fact, even if Genevieve Nnaji came, the paparazzi will not notice her," said Hope Obioma Opara, the Publisher of Supple magazine and President/Co-founder of Eko International Film Festival who was at Cannes for the second time.
Hope is the co-producer of Letter to the Professor, a new Nigerian big budget film featuring the first African Nobel laureate in Literature, Prof. Wole Soyinka.
Nollywood stars can only shine at local awards events and some events in Africa, but they are not recognized at the major film festivals in the world.
The fact that the richest Black woman on earth Oprah Winfrey mentioned Genevieve Nnaji as one of the most popular people in the world only made Nigerians to go gaga and Genevieve Nnaji was over the moon, but not in Hollywood or Bollywood. Nollywood videos are the laughing stock of world class filmmakers.
The fact is most of the Nollywood stars will fail auditions and cannot face the tough challenges in Hollywood or Bollywood where you cannot use tribalism to gatecrash into acting like Igbo and Yoruba actors do in Nollywood.
~ By Ekenyerengozi Michael Chima
Photo Credit: Celeb Buzz
Photo Credit: Celeb Buzz