I Hope Babachir Lawal Now Know 'Who' The Presidency Is!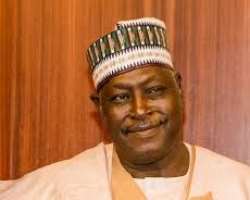 After an unusually stressful day on Wednesday 19st April, 2017 I decided to attend a hangout programme organized by a small group of old-time friends back then at Ife University which held here in a hotel at Apapa, Lagos. There were enough drinks and food to go round about ten of us at the event. Soon, we started discussing current issues and politics soon dominated our discussions when the suspension of Mr. Babachir David Lawal, recently suspended Secretary to the Government of the Federation (SGF) came up.
For those who know my views since the issue relating to conflicts of interests was brought against him last year, I have joined the campaign for President Muhammadu Buhari to sack him rather than shield him. I held this view because, keeping someone like Lawal will ridicule the anti-corruption war waged by the Buhari administration. I also maintain that if "a big fish" like Lawal is sacked for allegation of corruption, the war against corruption will have more credibility.
When I got the news of his suspension by the Presidency, I felt so relaxed. I thought about what the President's critics will come up with this time. Will they say he was suspended because Mr. David just got converted to Christianity (as his son reportedly alleged)? Or because he recently joined the opposition party? Or because of this or that? A lot of things ran through my mind at the time.
So during our discussion in the hotel, someone raised a point that the suspended SGF had insisted he is not suspended since, according to one of us at the meeting, he said: "Who is the Presidency?"
I didn't originally know how to respond to this new found arrogance. But one thing was sure, Lawal was not resuming the next week as the Federal Government scribe!
I left the event around 8 pm because I have to go to work the next morning. When I got home, I had to put on my WiFi so I can see the interview on YouTube. I received two calls from some of my old classmates for my comments on the matter. I had to miss the calls because I cannot make a comment on what I do not know. Alas, after seeing the interview, he actually asked the question, "Who is the Presidency?"
After watching the interview twice, some things ran through my mind. First, what does Babachir intends to achieve by doing that? Was he honestly saying he was victimized by his suspension which was intended to pave way for independent investigations into his alleged conflicts of interests? To this, I found nothing to the contrary. Recently, President Trump's National Security Adviser, General Michael Flynn, resigned just on the allegations that he 'inadvertently briefed the vice-president-elect and others' over calls to Russian ambassador which reportedly discussed lifting of sanctions and Russia's interference in the 2016 US presidential election. As powerful as he was in the administration, he never asked who the Presidency was!
The next thing I thought was probably there were "cabals" that have taken over the Buhari administration due to his failing health conditions. Even when the president is not healthy, does that mean there is no longer order in his administration?
To the second question, people like Ayo Fayose, Governor of Ekiti (who is always the first to jump into bandwagon on anything that has to do with Buhari) maintained that it was some imaginary "cabal" that suspended the former SGF to appoint Hausa-Fulani into the position.
One problem, like I have always maintained, with people like Fayose is not that they talk or criticize (which in itself is not bad) but that there are people always on ground to believe every trash that comes of their mouths. Surprisingly, most of these people I know that always echo Fayose's opinion have higher Intelligence Quotient (IQ) that he does. But somehow, intelligence is not a valued commodity in political plays in Nigeria.
Let say this for the records, The Presidency anywhere in the world is an institution not an individual. You may need to read that again. The Presidency is different from the President (who is an individual who is constitutionally responsible to perform that role). The Presidency includes the President, his office and a whole lot of other political and security apparatus on which the life of the state depends.
Those making or insinuating "conflict" in the Presidency over interagency rivalries appear not to know much about administration at all or just deliberately decided to be ignorant. For instance, the Central Intelligence Agency (CIA) has a clear mandate to fight communism or prevent its spread at home and abroad. The Federal Bureau of Investigation (FBI) has a different mandate to fight crime (violent or otherwise) at home. When the two cross each other's parts their interpretations on the same issues are often different. Does it surprise anyone then that the CIA supported the Royal Government against the communist North Vietnamese-backed Pathet Lao's faction (backed by the State Department) during the Civil War in Laos (1953-1975)? Was it the case that President Dwight D. Eisenhower lost control of his administration?
The question "Who is the Presidency?" to me is a combination of pride, emotion and ignorance. I say pride in the sense that probably, the former SGF, overestimated his power. He is a political appointee that holds his office at the pleasure of the President ONLY. This is perhaps why his appointment has no need to be transmitted to the National Assembly for confirmation. Had he known this early, he would never have asked the question.
I also said it is emotion probably because Lawal overreacted or felt betrayed by Buhari whom he's been supporting since 2003. He probably allowed power and his familiarity with the President to get into his head hence "Who is the Presidency?"
I understand Lawal's situation perfectly. Getting to your office one morning and without prior knowledge or previous queries, you are told, like Donald Trump, "You are fired!" can be really annoying especially when you are so close to the owner of the establishment. Your first instinct will probably to tell your boss to "Go to hell!" I understand he is probably too familiar with the boss that his large ego may have been flattered beyond his importance. Politics is not always about friendship or emotions. It's about service and responsibility too!
I equally said it is based on ignorance because Babachir probably does not know that the Presidency is not a person what can answer the question "Who is…?"
It has been a week now since he has been suspended by "Who is the Presidency?" no one recalls seeing him performing the functions of SGF. I sincerely hope he now knows WHO the presidency is!
OlalekanWaheed ADIGUN is a political analyst and independent political strategist for wide range of individuals, organisations and campaigns. He is based in Lagos, Nigeria. His write-ups can be viewed on his website http://olalekanadigun.com/ Tel: +2348136502040, +2347081901080. Email: [email protected], [email protected] . Follow me on Twitter @adgorwell
Disclaimer:

"The views expressed on this site are those of the contributors or columnists, and do not necessarily reflect TheNigerianVoice's position. TheNigerianVoice will not be responsible or liable for any inaccurate or incorrect statements in the contributions or columns here."
Articles by Akogun Olalekan