Catholic Women Organization Honours Woman Philanthropist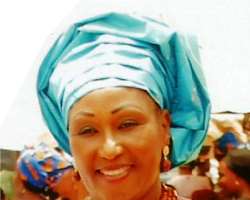 As the Catholic Community celebrated the 2017 Mothering Sunday, the Catholic Women Organization of St. John Bosco Catholic Church, Asaba, Delta State has honoured the philanthropic gestures of Mrs Collina Anazia, the owner of Lumen Christi, a private school in the state capital with Ezinne Odu-Oma, which is interpreted as 'Mother of good councillor'.
The title of Ezinne was bestowed on her by the CWO for her continual contributions to the development of the organization and the church community.
Commenting while receiving the honour, Mrs Anazia noted that she never knew that the parishioners of St. John Bosco were taking records of her secret donor towards the growth of the church.
She called on Christians to always support God's work at all times, stressing that God who sees in the secret in His own wisdom has ways of rewarding His followers.
Anazia explained that CWO is an organization in the church that is made up of women who are married in the church and supervises the activities of women.
Mrs Anazia, a graduate of Business Administration from the prestigious Ambrose Ali University, Epkoma, Edo State said all mothers should examine themselves to make a change for the society to be a better place to live in.
She further advised women as members of Knight of St John's International not to allow any situation they encounter in life hinder them from doing good work of God, adding that they should hold unto the word of God in everything they do in life.
She used the occasion of the Mothering Sunday to inform women to see themselves as peace makers and praying alters in the womb.
Mrs Anazia stated, "Women should dedicate themselves to God at all times and bring the word of God in our homes to ensure that our children are trained in God's ways".