Osun Police Pleads For Public Support, Says Police Are Meeting Stakeholders In Ife Mayhem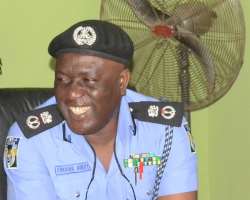 The Commissioner of Osun State Police Command, CP Fimihan Adeoye has solicited for the support and cooperation of the citizens of the state to ensure better enforcement of law by the agency.
CP Adeoye made this plea while addressing press men at the Nigerian Union of Journalists (NUJ) correspondents' chapel in Osogbo, capital of Osun State, yesterday.
He explained that the force needs the support of the people of the state and especially the Press to further sustain and maintain the peace already reigning in the state.
He also promised that the force would not relent in its goal of ridding the society of anything that might threaten its peace and progress.
While answering a question on the search for the two missing students of the University of Osun State (UNIOSUN), CP Adeoye explained that investigation is still on going and that some people have been charged to court already.
On the issue of the recent clash in Ile-ife, Adeoye said the Police are currently meeting major stakeholders and are ensuring that a reoccurrence of the event is avoided.
His words," It should be noted that the Police would do everything possible to ensure the peace of the state. If there are reports of criminality about a particular area, the police will immediately raid such an area.
"All of these are in accordance with the main objective of the force which is to protest the right of the people. About the issues of some area boys coming to you when you are building your house to demand for money, please report to the nearest police station and lets the police deal with them.
"Everything goes down to the support of the people, it is one thing to be harassed and it is another to report to the appropriate quarters and that is the reason we are here to seek for public cooperation in safeguarding our society.
"Though there might be tension over the coming election in the state, the police already has strategies to sustain peaceful conduct of the entire process of election."