Police arraign septuagenarian for stealing 18 cows in Osun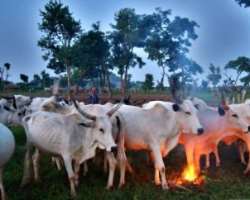 The Osun State Police Command has arraigned a septuagenarian, Abdullah Muhammad before a magistrate
court in Ile-Ife for allegedly stealing 18 cows.
According to the complainant, Alhaji Teliatu Akanji said he bought 6 females cows for the accused person 12 years ago based on agreement that whenever the cows give birth to
younger ones, they will share it equally and the cows eventually gave birth to 28 younger ones which they divided into two, making 14 each while the initial 6 cows were
retained by the accused to continue rearing.
He explained that the accused told him that he could not rear the cows again because of his age, adding that he had surrendered them to his
son to continue rearing the cows in Gbongan, Ayedaade Local Government, Osun State.
He said when he got to the son who is residing in Gbongan, he could not find the son and the cows.
Akanji added, "when I did not see my cows, I went to the accused person's house and he told me that he has seen his son and the cows for
over four month too and that was how I reported to the police.
"Then we also had an agreement that he would be returning two cows every month, but he only returned just two cows in two months, when I
discovered that he did not turn up with the agreement, I decided to bring the case to court.
"The remaining cows that am yet to collect is 18 and each cow values N200,000. It is either he returns the cows or pay N3.6 million as the
cost value of the cows."
The Police prosecutor, Inspector
Inuebimi Tomola told the court that when he investigated the case, it was discovered that the son of the accused person carted away the
cows.
He explained to the court that he invited both the accused person and the complainant and they both agreed that the accused person will be returning two cows each every month but the accused was able to return two cows and the breach of the agreement compelled them to approach the court.
Defense Counsel to the accused person, Mr Ola Ibrahim argued that the accused was brought before the court not for alleged stealing but for breach of agreement.
In her ruling, presiding Magistrate Dorcas Ajiboye adjourned the case to 28th July, 2017.