Be Steadfast in helping the Needy at Easter – Mrs. Obiano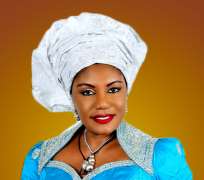 The wife of the governor of Anambra State, Chief (Mrs.) Ebelechukwu Obiano has called on mothers to be steadfast in helping the less privileged members of the society in furtherance of the sacrificial essence of Christ at Easter.
Mrs. Obiano stated this whilst reflecting on the role of mothers at Easter in a time of national economic recession after the ceremonies of the Passion of Christ on Good Friday at the Cathedral of Assumption Parish Nnewi, Anambra State.
According to the wife of the governor, "we all know that the times are hard due of the state of our economy but we cannot afford to ignore those who do not have the means or resources to survive the moment. As we heard and saw in the Passion display, Christ was selfless even to the point of death for our sake. My take is that we have to borrow a leaf by extending assistance to others even when it hurts, especially at this period."
As a mother and wife of the governor, "you know that my responsibility go beyond the welfare of my immediate family to those who lack not just what to eat but whom simple advise may change their fortunes and life for the better. I therefore believe that we can achieve more stability and sustain the current peace we enjoy in our state when Ndi Nne across our communities are able to sustain the care and compassion for neighbours which we are known for. That way we all would have helped our husbands maintaining peace and tranquility not just at the home front but in our towns and our state." Mrs. Obiano asserted.
Mrs. Obiano explained that care for the needy and the vulnerable is at the core of the programmes of her NGO, Caring Family Enhancement Initiative (CAFÉ) which she has deployed as a vehicle for supporting the laudable programmes of the government led by her husband, Chief Willie Obiano.
"Whereas the governor engages in statutory and daily issues of governance, I try with the help of philanthropists who fund our activities to touch the lives of the less privileged across board. In this regard, we have so far, built and handed over nine houses to indigent widows in communities like Agulu, Alor, Amorka, Amichi, Awba-Ofemili, Enugwu-Otu, Ogbunike, Nri, and Umunya; and toilets built in rural markets to promote hygiene and dignity of women.
She further explained that CAFÉ has trained and empowered over 2500 women on new skills in the following areas: Tailoring and Fashion design, Soap making, Bakery and Confectionery, Hair dressing and Beauty Therapy, and Interior Decoration, Telephone and Computer repairs, Community Health Assistant Services etc, at no cost to the beneficiaries; and called on the Ndi Nne to send persons who wish to learn a trade to be trained and empowered.