Gordon Obua, Former CSO To President Jonathan, Dies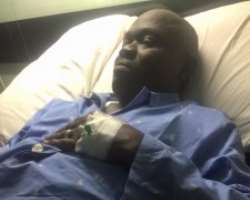 Gordon Obua, the man who served former President Goodluck Jonathan as his chief security officer, has died.
According to sources , Obua passed away at the National Hospital, Abuja after "suffering a massive heart attack" late on Thursday, April 13, 2017.
He was an operative of the secret police, the State Security Services, until 2015 when the new Buhari administration marked him because of his role in the Goodluck Jonathan government.
Two months after Jonathan left office, the secret police arrested him and kept him in an underground cell denying him access to his lawyers, family, or doctor.
His lawyer raised an alarm at the time, alerting Nigerians that he was managing hypertension and diabetes and the actions of the government was worsening his health situation.
Obuah, in protest, embarked on a hunger strike. He went into a coma, prompting rumours of his death in detention.
He was later released by his boss and paraded in a press conference at the SSS headquarters. Health complications arising from his incarceration led to him being flown to South Africa for treatment
Hell bent on "dealing with" officials who served former President Goodluck Jonathan, the director-general of the SSS, Lawal Daura , a kinsman of President Muhammadu Buhari, ordered a "probe" targeted at Obua and other officials who played prominent roles under Jonathan.
They were branded as corrupt and dismissed from the service. Obuah was one of them.
He never recovered from the health crisis occasioned by his illegal arrest and detention.
He leaves behind two wives and many children including twin toddlers.