Muazu, Former Pdp National Chairman Is Owner Of Luxury Apartment Where Efcc Seized $38m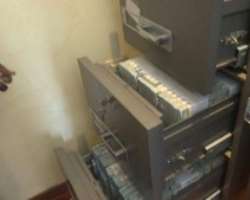 BEVERLY HILLS, April 12, (THEWILL) – Former National Chairman of the Peoples Democratic Party (PDP), Mr. Adamu Muazu is the alleged owner of the Ikoyi, Lagos luxury apartment, where operatives of Economic and Financial Crimes Commission (EFCC) seized about $38m, N23m and £27,000 (all cash) on Wednesday, THEWILL can report.
Sources with knowledge of the raid told THEWILL that the funds were seized after a whistleblower leaked the existence of the stashed cash at the Ikoyi luxury residential apartment complex located at 16 Osborne Road, Ikoyi.
Political pundits told THEWILL that Muazu, a former Governor of Bauchi State (1998 – 2007, was beneficiary of huge sums of money from politicians and aspirants, who wanted the PDP ticket ahead of the 2015 general elections.
Some pictures from the raid have been made public by the EFCC.
The EFCC is working on the premise that the monies were mostly siphoned from government coffers by office holders including state governors, a source at the agency told THEWILL.
EFCC Statement following the development:
"EFCC Uncovers Another Massive Stash Of Monies In Ikoyi
The whistle blowing policy of the Federal Government is paying off positively as the Economic and Financial Crimes Commission today stormed a residential building in the 7th Floor of a four – bedroom apartment at Osborne Towers located at 16, Osborne road Ikoyi, Lagos, where a humongous find of foreign currencies and Naira notes to the tune of $43.4m, £27,800 and N23.2m was uncovered.
The operation followed a whistle blower's confidential alert received by the Commission's Lagos office this morning regarding some noticed suspicious movement of bags in and out of a particular apartment in the building. According to the source, the movers of the bags, make believe that they bring in bags of clothes.

Another source who is conversant with the apartment of interest indicated that some woman usually appeared on different occassion with Ghana Must Go bags. "She comes looking haggard, with dirty clothes but her skin didn't quite match her outward appearance, perhaps a disguise", the source said.
On getting to the building, operatives met the entrance door locked. Inquiries from the guards at the gate explained that nobody resides in the apartment, but some persons come in and out once in a while. In compliance with the magisterial order contained in the warrant, the EFCC used minimum force to gain entrance into the apartment.

Monies were found in two of the four bedroom apartment. Further probe of the wardrobe by operatives in one of the rooms, was found to be warehousing three fire proof cabinets disguisedly hidden behind wooden panels of the wardrobe. Upon assessing the content of the cabinets, neatly arranged US Dollars, Pound Sterling and some Naira notes in sealed wrappers.

Preliminary findings indicate that the funds are suspected to be proceeds of unlawful activity.

The facility is said to be owned by Osborne Towers Resident Association.

Investigations are ongoing."