Justice Ofili-Ajumogobia questions court's jurisdiction to try her corruption case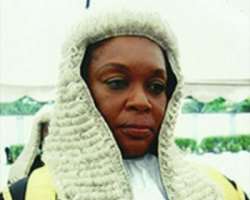 A FEDERAL High Court judge, Justice Rita Ofili-Ajumogobia, has challenged the jurisdiction of an Ikeja High Court to hear the ongoing corruption charge brought against her by the Economic and Financial Crimes Commission, EFCC. Robert Clarke, SAN, Ofili-Ajumogobia's new lead defence counsel, challenged the court's jurisdiction on Monday in an application brought before Justice Hakeem Oshodi.
Clarke, a new addition to Ofili-Ajumogobia's defence team, has joined Olawale Akoni, SAN, to defend the embattled judge. Odein Ajumogobia, the brother-in-law to the judge and a former Minister of Petroleum Resources and Foreign Affairs, was also in court to lend support.
Ifedayo Adedipe, SAN, the defence counsel to Godwin Obla, SAN, Ofili-Ajumogobia's co-defendant, asked the court to hear the application alongside the suit in order to speed up the trial. "My Lord, it is my humble submission that having regard to the Administration of Criminal Justice Law that this issue be taken with the substantive suit even though it is a joint trial. This is the argument of the first defendant and not of the second defendant," he said.
Justice Oshodi did not grant Adedipe's request but adjourned the case until April 28 for ruling on Clarke's application. Ofili-Ajumogobia is standing trial alongside Godwin Obla, SAN, former prosecutor of the EFCC. The duo is jointly charged with a two-count offence of perverting the course of justice.
Obla is facing an additional two counts of offering gratification in the sum of N5 million to Ofili-Ajumogobia, a public official, while serving as a judge. Ofili-Ajumogobia faces a 26-count charge bordering on unlawful enrichment, taking property by a public officer, corruption by a public officer, forgery and giving false information to an official of the EFCC.
Both denied all the charges. Four prosecution witnesses — three bankers and one Bureau-de-Change operator — have so far testified in the trial for the prosecution. The witnesses gave accounts of how they allegedly helped the judge launder large sums of money in foreign and local currencies from her home and the judge's chambers at the Federal High Court, Ikoyi, Lagos, into various bank accounts registered in her name. – Vanguard