Andy Uba Petition's Ig Over Alleged Extortion, Blackmail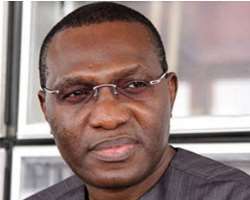 Senator representing Anambra South senatorial district Senator Andy Uba has petitioned the Inspector-General of Police Mr. Ibrahim Idris over alleged attempts by one Victor Uwajeh to extort huge sums of money from him.
In the petition dated 7 th April, 2017, Uba, who doubles as chairman, Senate committee on public accounts, accused Uwajeh of serial attempts to blackmail him with intention to obtain huge sums of money from him.
Captioned "SERIAL ATTEMPTS BY MR VICTOR UWAJEH TO BLACKMAIL AND EXTORT MONEY FROM ME," the senator told the police boss that, having failed in the scheme, " Mr. Victor Uwajeh may have resorted to targeting my reputation, my career and my life through the spread of scandalous falsehood about my person."
Uba said he first met Uwajeh during his stint at the Presidential Villa as Presidential Assistant, but became wary when the latter began to boast that he was an undercover agent who had the dossiers of high ranking "politically exposed persons."
According to the senator, the testimonies of top office holders on Uwajeh, including those of the then chairman of the Economic and Financial Crimes Commission (EFCC), Mrs. Farida Waziri and the Late Prof. Dora Akunyili, further made him stop yielding to the several financial demands of the self-styled undercover agent.
Wrote the Senator, "My interest was piqued when he made serious claims about how he was an undercover agent first for the MI5 and British government and then for the EFCC under Mrs Farida Waziri. His claims that he had dossiers on all politically exposed persons in Nigeria raised certain flags. My worry heightened when Mr. Uwajeh tried to use me as a conduit to the so called politically exposed persons into parting huge sums of money in exchange for destroying what information he had on them.
"As I stopped all communication with Mr. Uwajeh, his telephone calls and text messages even became more desperate and threatening. He would go between pleading for financial help to threatening in desperation. These text messages were sent vide mobile telephone number 0705155518 and +447424924346. These messages remain available for verification should the need arise.
Continued Uba, "The character of Mr. Victor Uwajeh is not in question as there have been very strong allegations of similar nature against this man. The same allegations I make today have been made by late Prof. Dora Akunyili, Mrs Farida Waziri, Mrs Cecilia Ibru amongst others.
"Mr. IGP, to buttress my point, I will quote Mr. Femi Babafemi (who was the spokesperson of EFCC at the time) who had this to say of Mr. Uwajeh: 'Faced with the consequence of his dubious actions, Uwajeh have left no one in doubt that he one in doubt that he will be all out to seek means of blackmailing the EFCC and its leadership".
Senator Uba urged the police boss to treat his petition "with your characteristic urgency and meticulousness."