Three Quick Things We've Learned From Gov. Obaseki's Accelerated Agriculture Initiative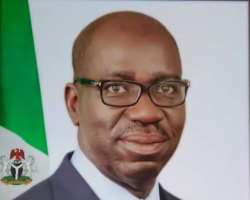 Three quick things we've learned from Gov. Obaseki's Accelerated Agriculture initiative:
Governor Obaseki of Edo State was clear when he opined that the system Nigeria operated since the discovery of oil is no longer sustainable in light of recent realities that have seen the price of oil plunge downhill due to growing supply and dwindling demand for the commodity in the international market. Consequently, Nigeria's economy has slipped into its worst economic recession in 25 years.
"Change is a very difficult issue to deal with. I assumed office at a time that required change and to enable that change come through, we need to know that the models we ran over time are no longer possible, especially since the advent of oil. Today, oil can no longer sustain the system and so, we must change or else, we all crash", he said, reechoing the thoughts of analysts, who had opined that the country needed to wean itself from oil and explore new channels of revenue, either by revamping existing sectors or by creating new ones.
Unlike those analysts however, Governor Obaseki has the political power to act on his words, hence, the introduction of the Accelerated Agriculture initiative in Edo State.
Here are three quick things to note about the initiative and its possible impact:
1. It is detailed and well-rounded: The problem facing the agriculture sector in Nigeria is multi-faceted, but at the core is: access to land, availability of capital, possession of necessary skill to evolve from subsistent to mechanised farming and marketing of produce. The state government therefore has acquired and cleared hectares of land across the state, provided funding through the CBN anchor borrower's programme, provided technical support and arranged for available market upon harvest.
In essence, the government is providing land, fund, training, quality seedlings and a ready market immediately after harvest. All anyone interested in the initiative needs to do is show up and plant. The Government, through the Accelerated Agriculture Initiative, has taken care of all needs.
2. Creates employment opportunity: The goal of the initiative is to produce about 2000 millionaire agripreneurs, who would, in turn, engage more hands and create more millionaires. Given how appealing and conceived the initiative is, the objective is achievable as the initiative would, no doubt, draw young, idle hands from across the state and, gainfully engage them.
3. It leads to a safer and richer state: The beauty of agriculture, and the compelling need for states with arable lands to invest in it, is that it doesn't just engage idle hands, it also ensures food-sustenance through constant supply. The result is a richer state producing far more than demand and exporting excess. Governor Obaseki's Agric initiative has the potential to do all of these, and, in addition, drastically reduce the crime and poverty rate as youths will be enrolled in an initiative that equips them with skill and safeguards their future.
Governor Godwin Obaseki rode on a campaign promise to create 200,000 jobs into office, and while it seemed like a tall order at the time he made the promise, smart investments like the Agric initiative could see him exceed the number with relative ease and perhaps, reposition Edo State as an economic hub in no time.
The writer tweets via @shina_pitta
Disclaimer:

"The views/contents expressed in this article are the sole responsibility of the author(s) and do not necessarily reflect those of The Nigerian Voice. The Nigerian Voice will not be responsible or liable for any inaccurate or incorrect statements contained in this article."