BATTLE FOR AKUME'S SEAT IS MY LAST – HON MIKE MKU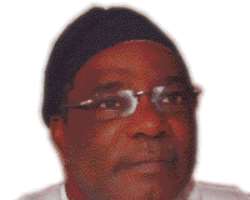 Mike Mku
Hon. Mike Mku is not a new face in Benue State politics. He has contested the governorship position severally but unfortunately his dream of occupying the Benue Government House could not be realized.
This time around, he aspires to slug it out as one of the contestants against Senator George Akume, who presently represents the Benue North-West Senatorial District at the National Assembly. Recently, he had a chat with newsmen on why he wants to oust the former Governor, now Senator from the seat.
Excerpts:
If you have the opportunity of becoming Senator, what agenda would you pursue based on the problems of your constituency?
In management, you have what is called SWOT analysis. That is strengths, weaknesses, opportunities and timing. Whenever you're doing something, you have to apply this analysis. You start with your strengths and then know your weaknesses, the opportunities that are available and then your time. Our strength in Benue State is agriculture.
More than 90 per cent of our family members in Benue State are farmers, that's just the truth. You and I know that there are only very few families in the state that cannot trace their backgrounds to farming. This is different from places like Lagos, Ogun and all that. Those people are about five generations ahead of us. In those places somebody like me at my age my father would have been a professor but that's not the case in Benue.
Most of the people here are just farmers, and that has been our nature; that is what God has given to us. God has endowed us so much in Benue with good fertile land and all the things that we have are very special in agriculture. That is our strength. Today if you go to Lagos or Abuja your friends will ask you 'did you bring those Benue oranges for me; those oranges that don't have seeds?'
In other parts of the country when you boil yams you put sugar but here the yam that we have has got that natural sugar, that natural flavor that people are yearning to get it. Even our cows are different, our goats too are different in taste and people yearn for all these things all over the place. So why don't we take advantage of these? If have opportunity to go to the National Assembly, this is what is at the back of my mind. I'm going to work towards a situation where machinery will be put in place so that our farmers in Benue and my senatorial district particularly will derive maximum benefit from their occupation.
I tell you, if we actually go into serious farming, this question of unernployment and povetty you're talking about will just vanish. This is because the food that we produce, if we are able to preserve the food properly and get proper marketing strategies, before long only few people will talk about poverty, that's the truth. I will also try to work in synergy with the leadership of the party at the state and national level as well as individuals, organizations, and my colleagues to enable me attract federal might to bear on needed infrastructure in my district such as the bridges at Tyulen and Buruku as well as the dredging of River Benue. Together we shall also work towards the realization of the Makurdi port dream. These would form part of my agenda in the Senate.
My joker
I don't want to talk about their chances but I want to talk about my own chances. I know that if it's a level playing field, and I pray to the Almighty and the leaders of the party to give us that level playing ground. In spite of all the monies, I know what to do.
Basis of ambition
You see, I've paid my dues in politics. Over the years I've 'vorked and worked tirelessly to try to have an opportunity to be in a position that I'll be able to contribute my quota to the development of Benue State.
In 1999, of course everybody knows what happened. I went round the whole state, 23 local governments, I campaigned and everybody was ready to vote for me and all that. Our leaders did not let me have that opportunity.
I didn't protest, I didn't fight back and worked tirelessly for the success of the PDP as a party and the success of Akume as an individual who was contesting. I did that, I worked hard and they all succeeded, the party succeeded, Akume succeeded. I did not get anything in return, I was not asking for returns by way of monetary gains or whatever, but by way of getting an opportunity to contribute. I didn't get that, I was sidelined.
In 2003 everybody knows in the state that if an opposition party was going to take over from an incumbent Governor I was going to take over from Akume. But I explained the circumstances that led to what happened. I was shortchanged and I couldn't get there. At the same time Akume was in government and I asked my people to vote for him and they all voted enmass for him and he became Governor. What did I get in return? Hostility. I didn't get anything in return. I even contested the Senate in 2007, but using the might of state power, I couldn't go anywhere and he took it, even though he knows that the thing did not belong to him. But because he was in position, he was able to do it, and he did it.
So, today, if I'm contesting election, I have paid my dues. Even Akume himself, and if he has got anything called conscience, he knows how much I've given in to him. But this time around, I'm not and I will not. I'm willing to fight my last political battle. Because by 2011, I will be 60 years exactly and after that wouldn't be into any active politics by way of contesting election. I can only stay back and be an elder and advise that this should be done, that this is right, this is wrong.
You've suffered many losses in politics. What are the lessons you've learnt?
Well, given my Christian background, I may not be a perfect Christian because there are many things I find difficult to do the way God wants. But there are some of them, to me, that are very easy to do. So if heaven, that is, if going to heaven is based on those easy ones I can say that I can make heaven. One of the easy ones, to me, is that I don't have anything against anybody.
That is just the truth. In spite of all that I have told you that people have done to me, I don't hold it against them. What I believe in my mind is that when God blesses you and wants you to be in a particular place at a particular time, there is no human being on earth that will stop it and I believe that strongly. So, to that extent, I can tell you that I'am not bitter with anybody. Of course along the line, there are a lot of betrayals and backstabbing and that has happened to me plenty. I cannot give you all those details in this interview. It has happened to me but honestly, I tell you I'm not bitter with those people.
Naturally, I am a human being; at the time it happened, I feel bad. I have blood flowing in my veins. Even Jesus Christ when death came, he felt it as a human being and told God to take the cup away if it was his will, so as a human being, I feel it when it happens. I really get upset and I feel disappointed and all that. But given time, with a little bit of time, I just forget about it. Right now, as I am talking to you I don't have any bitterness against anybody.
Is there any good thing or lesson that you've Jearnt from politics?
I wouldn't say from politics, but I would say from human beings because my life is not only politics, 1've been in and out of politics. I've dealt with people and all that. Macbeth, one of those Shakespeare books says there is not art to find the mind's construction in the face. My experience in politics just confirmed that statement.
There is no art to find the mind's construction in the face.
The man, Mku
Mike Mku is Mike Mku. A simple, humble man. I will call myself humble even though a lot of people think that I am not humble, but I am humble in my own way. I am a simple man; I don't have complications in my life. The way you see me is the way I am. You can look through me, 'am transparent. I love life. I love the pleasures of life, but I do serious things as well. One of the things I love as I play politics is that I love a situation where I will be in a position to assist people.
That is one of my cardinal principles because I don't want to eat alone. Igboman says 'person wey eat alone go die alone.' So, I don't want to die alone. In the positions that God has graciously endowed me with in life, I have tried to reach out to a great number of people. Of course, it's not everybody that will go and start clapping for me. Because there are people for some reason, I've not been able to live up to their expectations.
For such people when I am talking like this they will find it funny, but there are a great number of them who have really appreciated what I've done to them. 1 like in my life to make a difference in another person's life to the extent that if I've done something for you, and you corne back to pay back I don't like it because it's no more a favour I have done to you. So, when I have done something for you, I want you to consider it as a favour and not come back to thank me.
Akume as senator
I've never heard that he has sponsored a bill. If you say you put up your hand and they've not recognizing you, at least when you sponsor a bill, it could not be a personal bill. If you sponsor a bill and they refuse to take it everybody hears about it. But that is even not the issue. If you sponsor a bill and it would not be taken, you can sponsor it with other people. But I've not seen a bill he has sponsored between him and other people as well.
Back horne here, there are constituency projects that Senators take to their areas. I haven't seen a signboard anywhere that this project has been done by Senator Akume from the National Assembly. But there are provisions for that. I believe that we in Zone B are suffering for lack of proper representation.