Letter To A Friend: We Are In Trouble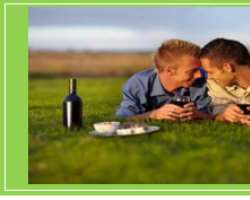 Dear Sir Stan,
I read your recent write-up on Face Book on an ideal husband-wife relationship with great relish. You not only elucidated many facts that make marriage work, but more importantly, you made references to the Scriptures. The truth many people either don't know or are underestimating its impact is that traditional families and their values are under very serious attack by the so-called modern families. What we see in Europe and America are just the beginning of a social revolution that will eventually put the world in a comatose situation with its head down and its feet up, and humanity in total confusion.
Just about a week ago, I was reading an article in Time magazine by Kate Stelnmetz titled "Beyond He or She" and it spoke glowingly about how America's new generation is now redefining the meaning of gender. A growing number of young Americans are moving beyond the idea that we live in a world where sexuality and gender come in only two forms – male and female. These days, they not only have lesbians, gay, bisexual and transgender [LBGT] fighting for equality in law, they have recently added the queer gender group to their listing. They even argue that LGBTQ people who are able to blend in with societal values are gaining more respect.
For a long while, many African countries resisted this urge to depart from the values of the traditional family, even in the face of threats by America and Europe to withdraw their economic aids to the countries in Africa which refused to recognise gay relationships. But I had my doubts. I had my doubts that at some point, judging from the way things were happening, our people could jettison the old ways of doing things and settle for the so-called modern standards. That doubt was expressed in my article published in the Modern Ghana and The Nigerian Voice Newspapers of 7 July 2015 titled "In a matter of weeks: how will the pendulum swing?" Today, that fear is gradually being justified.
Despite the seeming stiff penalty that the Nigerian legislature stipulated for people convicted of sodomy, more and more Nigerians are getting involved in gay relationships. Remember the recent controversial case of a 49-year old man who lured a 12-year old boy and sexed him so mercilessly that he caused a great damage to the young boy's anus? The boy was sent to hospital. He needed several surgeries to stitch back his anus together and in the process the boy died. The case went to court and surprisingly or not so surprisingly the criminal was given a month's jail and a fine of N30,000. Now, what message was the Nigerian judiciary sending out? And if that message was wrong, what have the higher courts done about it?
My dear, we are in trouble. But we will not give up hope. They can call us underdeveloped or even un-developing. They can tell us we belong to the ancient times, to the Old Testament tradition. But we know better. We know that Satan is at war with true Christians. We know that Satan even goes to Church to look for converts. Our people need deliverance. We need deliverance from copying everything the "civilised" countries are doing and believing they are always correct. Human beings can never be always correct. So, we need to stick to our own values.
I look at all the animals God created. They come in their nature and sex only male with female. You never see a he-goat sexing another he-goat. You never see a cock sexing another cock. You never see a male cow sexing another male cow. But with man, it has become a different dimension because he has found it "necessary" to defile nature. In this country, I even understand there is a pop where rich men pay heavily to have sex with various types of animals. And you begin to wonder: what kind of life is that? But it is happening, in our "civilised" world.
In all this I find that man is daring nature, daring even God. But the battle is not God's. It's ours, the believers because He has given us authority over Satan. We inherited that authority from Jesus Christ. And we must use it to fight these dark forces that are bent on ruining our families and the family values we cherish so much. The key, Sir Stan, is prayer. A family that prays together stays together. But we must also realise that even as Satan goes to Church to look for converts, so he can also visit our families during prayers to dislodge our focus. It is a battle and the sooner all true believers put their resources together to fight this battle the better for the traditional families. Even here in England, there are traditional families of one male husband and one female wife and their children, if they have any, who have bluntly refused to give grounds. We stand shoulder to shoulder with them, encouraging one another. We may not win the war as it races like a hurricane across the globe, its proponents sharing money to those who are willing to go any length to have it. The best we can do is to stand our ground and ensure that through our prayers we are able to keep our families and our traditional values intact and beyond their corruption. We must look beyond our wives and see the dark forces that are cursing or causing them to do the things they do, which they shouldn't do. Indeed, we are in trouble.
Disclaimer:

"The views/contents expressed in this article are the sole responsibility of the author(s) and do not necessarily reflect those of The Nigerian Voice. The Nigerian Voice will not be responsible or liable for any inaccurate or incorrect statements contained in this article."
Articles by Emeka Asinugo