My Declaration.
Dr. Tosin Akindele Makes a Declaration In the matter of David Ibiyeomie vs His Accuser (Omolara Olunloyo),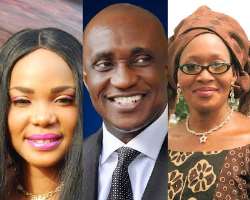 I solemnly declare: That...
In the matter of David Ibiyeomie vs His Accuser (Omolara Olunloyo), I would have tried to do what Jesus Christ would have done in similar circumstances were I to be the said Pastor.
Many Christian commentators not only opt for bitter vengeance inspired by earthly justice so noisily, they readily revert to gutter language against persons of diverse opinions!
Even cogent arguments like Jesus Christ laughing off such matters with wise parables were he to be the said pastor...met a brick wall.
The fact that Jesus suffered immeasurable sufferings but still prayed and forgave his persecutors and tormentors met deaf ears!
My near-absolute lack of material things commensurate with my skills and experience as a doctor as I refuse to blend with our corrupt system bears testimony to this declaration.
I may not match Jesus Christ, but I would try.
The question is: Is David Ibiyeomie and his horde of supporters even making any attempt to live a Christlike life?
From their reactions on this matter, the answer is clear!
The social media has been awash with comments regarding the words of a Kemi Olunloyo against a Pastor David Ibiyeomie, one of the latter-day charismatic if not flamboyant, Pentecostal Pastors roving our landscape.
Such comments fit snugly into both sides of the divide, save that the condemners of this lady largely outnumbered the defenders and the neutrals!
Mrs Olunloyo was reported to have stated that this pastor has sex with another lady, infuriating him enough to lodge a complaint with the police and have the lady remanded in prison custody!
As Pastor Ibiyeomie momentarily forgot the God of his Bible and pranced on his accuser to visit her with such vicious reprisal, his fellow Christians were no better, urging him on and letting the lady know that she was being duly "dealt with for wrongly accusing a man of God"!
Except for blind trust fuelled by religious dogma, none of these commentators can say for certain that David Ibiyeomie did not have carnal knowledge of the lady so quoted! Our pastors are soaked in sin to be rightly deserving of such benefits of the doubt!
I am not aware that slander or libel are categorized under criminal offenses under Nigerian penal codes...but this "man of God" rather than forgive his accuser as admonished by his Bible...and his Jesus... briskly embraced the allure of vengeance instead of leaving vengeance to his God! He went beyond the boundaries of the law to inflict more pain than necessary on his victim.
Yet, this visibly vengeful pastor...a mere predator of the human mind...not man enough to get out there and do real work like fellow men...but lives on the sweat and gullibility of others...punished a weaker vessel...just like any sundry layman...presumably after threatening to "deal with" Miss Olunloyo!
Dr Tosin Akindele is a medical practitioner and public affairs analyst
Disclaimer:

"The views/contents expressed in this article are the sole responsibility of the author(s) and do not necessarily reflect those of The Nigerian Voice. The Nigerian Voice will not be responsible or liable for any inaccurate or incorrect statements contained in this article."