Buhari ratifies Paris agreement on climate change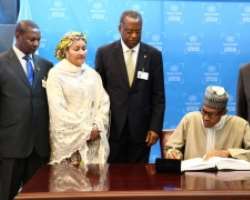 As part of measures to guarantee a safer environment for its citizens, Nigeria has become the latest country to ratify the Paris Climate agreement, which aims to avoid the most devastating effects of climate change by cutting carbon emissions.
President Muhammadu signed the instrument of ratification on Tuesday in Abuja.
In September last year, Nigeria demonstrated its commitment to global efforts to reverse effects of the negative trend by signing the agreement in a special event in New York hosted by the former United Nations Secretary General, Ban Ki-moon.
To date, 141 out of the 197 parties have ratified the Convention. The Paris agreement entered into force on November 4, 2016, one month after 55 parties to the convention, accounting in total for at least an estimated 55 per cent of the total global greenhouse emissions, deposited their instruments of ratification, acceptance, approval or accession with the depository.
With the ratification, Nigeria has committed to reducing greenhouse gas emissions unconditionally by 20 per cent and conditionally by 45 per cent. The Paris agreement is expected to deliver $100 billion per year in support of developing countries, to take climate action.
Under the agreement, each country submitted an emissions reduction proposal known as Intended Nationally Determined Contributions (INDCs). Nigeria is considering 30 percent energy efficiency in industries, homes, businesses and vehicles, through renewable energy and increased use of natural gas in generators and other machinery. Other measures being considered include stopping gas flaring, gas capture and setting standards for appliances.
Nigeria hopes to achieve success with the United Nation's Sustainable Development Goals (SDGs) on Climate Change and preservation of the environment and has stimulated a consciousness among its citizens on the need to embrace cleaner fuels and alternative sources of energy.
As part of its efforts, priority has been given to the immediate reduction of sulphur levels in imported fuels from the present level of 3000 parts per million (PPM) to 50ppm. It would be recalled that Nigeria's former Minister of Environment, Amina Mohammed, gave the green light for the urgently adoption of a policy of low sulphur fuel specifications Afri-4&5 to protect the health of the people and the environment after it was first mooted at the 10th Oil Trading and Logistics (OTL) Africa Downstream Week 2016.
Presently, four Nigerian cities, Onitsha, Kaduna, Umuahia and Aba feature in the World Health Organization's (WHO) report on the 20 worst ranked cities with poor air quality and high concentration of particulate matter (PM).
Source:
M&P