SEX WORLD CUP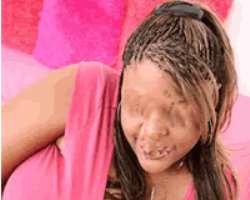 To heighten excitement and pulse rate at the soccer world cup billed for South Africa this June, the organizers of the event have added sex as a sidekick.
Sunday Sun can authoritatively reveal that they are covertly soliciting for over 40, 000 foreign sex workers to swell the number of estimated 373, 000 fans and hundreds of officials. Going by this figure, every male fan is entitled to at least one prostitute.
Generous with sex
The homegrown whores of the host nation have increased the number of sex workers prowling the 10 stadia , the venue of the Mundial. A Nigerian-born, South African -based pastors, Apostle Paul Akarigbo who visited The Sun a few weeks back told Sunday Sun, South African girls are generous with sex. 'There, you don't ask for it. The girls pester you and throw themselves at you. If you are that loose, you may fall,' he said.
With a robust flesh and sex market, an inside source told Sunday Sun, a large number of the foreign prostitutes will be drawn from Nigeria, the most populous country in Africa.
Big sex boom
Investigations by Sunday Sun further reveal that pimps and prostitutes in the major cities and campuses across the country are working overtime to cash in on the demand. A pimp in Ikeja, Lagos, who goes by the street name, Koja said the world cup has brought a big sex boom. 'There's no much time. The girls must be moved into South Africa before Friday, June 11. The demand is quite high and I'm looking for girls here, in Cotonou , Cameroon and Ghana'.
In a brief interview with Sunday Sun in a night club, off Allen Avenue, Ikeja , Lagos, press- shy Koja revealed how he is recruiting girls on university campuses to 'freight' to south Africa. 'Look, my friend, it's not easy. The girls in Unilag and LASU are willing to go. Some don't have ordinary international passport. We have to provide that, arrange for their visa, ticket, accommodation and feeding. As you can see, it requires a lot of money. But I'm not complaining. It's a business,' he said.
Flesh network
Asked how he would recoup his money, Koja laughed a little and told Sunday Sun he has a South African partner who will keep an eye on the girls: 'My partner and his boys will go round and collect returns from the girls every day for the one month they will be there. We have our sharing formula. The girls will definitely make money. We also will be happy at the end of the day. So, the more girls I send, the more money for me,' he revealed and moved on to meet some girls waiting to see him.
A pimp, Bulus who operates in Jos, Bauchi and Gombe in a telephone chart described the South African soccer fiesta as a great opportunity for any one involved in sex trade. 'Wherever a large number of men gather together, they will need a big number of women to take care of them. A lot of the fans are young men who are still sexually active. So, it's a good opportunity for us. The country, South Africa is a friendly, accommodating place. I'll start sending girls there in the first week of June,' he disclosed.
A female pimp in Lagos simply called Star (real first name Stella) sounded so important and described the girls of easy virtues like her as the salt of the world. 'We make life sweet and the world go round. After playing soccer, shouting and being rough in the field, players and their fans need to cool down with nice girls,' she said.
Star further told Sunday Sun she has networked with a bevy of girls at University of Benin, Ekpoma, Port Harcourt and Calabar for the Mundial. According to her, a top government functionary in the Ministry of Sports is taking members of her group to South Africa in batches. 'Before taking off, we will be paid upfront. We have nothing to lose,' she said with glee.
Pressed to disclose the amount each of the girls will be paid, Star giggled and simply said 'several thousands of naira. You know, we will be away for a full month. They have to pay us well to make them happy'.
Another pimp, Mike, an undergraduate at University of Nigeria Nsukka, Enugu campus who was contacted on phone, said there is excitement on the campus about the event. 'Some Aristos (wealthy men and paymasters have contacted me to arrange for a number of my pretty girls for them. The deal is, I receive N20, 000 for each girl I provide. They (men) will settle the girls on their own. The girls, of course, will also give me something when they return,' he said.
Red tour
To create ready market and easy access of the girls, Sunday Sun learnt taxi drivers, bars, brothels and breweries in South Africa have networked. A fan can be taken straight from the airport or stadium to the red spots of the cities in South Africa.
Realizing that the excitement in the soccer pitch can unleash a riot of desire to indulge in wacky, wild ways, the organizers have imported about one billion condoms. We learnt the condoms will be freely displayed and handed out at strategic locations.
Backup
As the date draws near, if Nigeria does not supply enough whores, the organizers have made contingency plan for girls from Zimbabwe and Congo.
A large contingents of whores will also be freighted from far-flung places like Russia, China, Caribbean Islands, Hong Kong and Pakistan.