Supporters Club: Ikpea congratulates Pinnick, Ahmad on CAF elections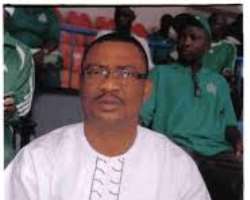 The Nigeria Football Supporters Club (NFSC) has congratulated the President of Nigeria Football Federation (NFF), Amaju Pinnick, over his successful election into the CAF Executive Committee.
In the elections, held in Adis-Ababa, Ethiopia, to pick new members of the executive, Pinnick defeated Moucharaf Anjorin of Benin by 32 to 17 votes.
And in the much-anticipated election to CAF presidency seat, new comer, Ahmad Ahmad of Madagascar beat incumbent Issa Hayatou by 34-20 votes to emerge the new CAF president thus putting a stop to Hayatou's 29 years long reign.
In his reactions to the elections, the NFSC National Chairman, Rev. Samuel Ikpea, described the results as the desire of the African football community to change and align with global trends.
"This is indeed, a testimony of the desire for change. Today, Africa has unanimously chosen to move forward in all ramifications, " Ikpea stated.
"Let me also congratulate our own Amaju Pinnick over his election. This victory, is indeed, a good one for Nigerian football. The supporters club and the whole Nigerian football fraternity hopes that this victory will positively impact on our football, " he added.
Continuing, he also congratulated Ahmad Ahmad on his election.
Ikpea also admonished the new CAF President to embrace all in the spirit of no victor, no vanquished.