Top Ten A list Actresses and why?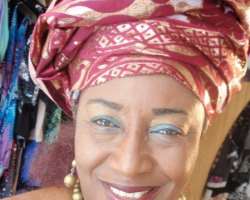 1.Genevieve Nnaji: This woman is one of my favorite actresses today. She is versatile like the actresses in the past, which is something that is lacking in many of the ones today. She has such a sweet face, but in a flash, you might want to rethink that thought. If she is playing a cold spinster, or a crazy loon, she always delivers. Genny is someone who will, or should, be remembered 50 years from now.
2.Rita Dominic: Is the glamour girl of the bunch and she knows how to play a seductress to the T, who wouldn't if they looked like her? Acting wise, she is top notch. She adapts well with different cast, and I love her for that.
3.Patience Ozuokwor: the Mama G. Her comedic timing is unparalleled. She is the epitome of evil when it comes to playing the part. I absolutely adore and love this woman. She throws herself and gives everything she got in her role. Her chemistry with some of the men is great. Mama G, I hail you.
4.Ngozi Ezeonu: In every film that I watch her in, I fall in love with her more and more. She is such a classic beauty who plays each role with such perfection that you almost believe all the movies are based off true stories. There was such a smartness and beauty about Ngozi that you couldn't help but fall in love with her. She has pizzazz in a way that has made her one of the best actresses of all time.
5.Omotola Ajelada Ekeinde: Has been one of my favorite since she played in "Mortal Inheritance". It's always shocking to see how this star has slowly evolved into an amazing actress. She doesn't play in that many movies now, but when she does, you have to go watch her, even if the movie sucks.
6.Bimbo Akintola: is one of the most underrated actresses. People know she is a great actress but they always seem to pass her by. She has played so many varied different characters. I first fell in love with her in "Domitilla". I love how light she is in her acting. She knows how to bring pure emotions to her characters. Bimbo is a heck of an actress. Producers and directors should stop sleeping on her.
7.Kate Henshaw: I first saw her in "When the Sun Set" with Bob Manuel and I never looked back. I have followed her ever since. Has a good command of space and stage. She is a method actress and a good one at that. That movie she did with Nkem Owoh "stronger than pain", showed me another side to this magnificent lady, she blew me away, I laughed, grinned and cried with her all through the movie.
8.Stella Damasus: is a quiet storm. She is soft spoken but has some grit in her tone when it is called for. When she cries, I cry. There is nothing she can't do. She is nollywood sweetheart.
9.Ini Edo: I fell in love with her in "Worlds Apart". She is the youngest in this bunch, and needs some refinement, but she is a talented actress that can hold her own in the company of the aforementioned ladies. I bit brash at times but refreshing in the same breath. She might be unpolished, but I think it works to her advantage as an actress. She can go there with her acting, I commend and embrace her for that.
10.Stephanie Okereke: didn't let her faith be defined by her accident, she kept on pushing and boy did she succeed? She is sometimes overshadowed by her colleagues, but this woman can definitely hold her own. Even now, she is still playing in films and is amazing at delivering lines. She played a controversial role in "Guilty Pleasures," with such detail and passion that it practically leaves you breathless.