Anti-corruption war: Magu vows to soldier on despite non-confirmation, DSS report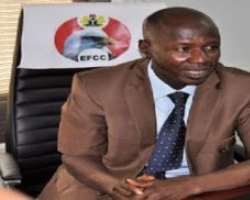 Coming out of the Senate chambers where the confirmation of his nomination was declined for the second time, the Acting Chairman of the Economic and Financial Crimes Commission, Ibrahim Magu, vowed not to be cowed by obstacles which have been strewn on his paths.
Magu said he continue to  carry out his assignment of fighting corruption not minding whose ox is gored.
The acting EFCC boss listed the obstacles on his path to include the report indicting him by the Department of State Services and his non-confirmation by the Senate.
He spoke  to members of some civil society groups at the National Assembly after the Senate refused to confirm him.
Doubting the credibility of the DSS report on him, Magu said:
"We have always been on duty.
"I will work until the last day whether confirmation or no confirmation.
"The greatest violation against human right is crime against the society and the humanity, but everybody has a duty and responsibility to fight corruption and I also have a responsibility.
"I assure you that we will fight to the finish.
"We will never be deterred because what we are doing is trying to investigate what has gone before and protect the future of our children and our future generation.
"So, if we don't work today and fight against corruption, the future is not guaranteed, the future of our children is not guaranteed.
"So, we must wake up, whereever you find yourself, fight corruption.
"Anytime you discover that I am corrupt, expose me."
Magu said the DSS report will not stand the test of time as it was flawed in several areas.
One of it, he said, was that he was not given the opportunity to state his own side of the case by the DSS.
He said: "Those allegations cannot stand the test of time because they cannot be proven.
"You know, you can't just raise mere allegations without giving the person the opportunity to answer you.
"There is the issue of fundamental human rights and the right of fair hearing.
"Up till this time, the DSS has not called me and I am even surprised that the same report is coming back and this time around it is signed by somebody.
"I doubt the genuineness of that report.
"But I think we need to identify those who have the interest of this country at heart."