Still On Nigeria's Senate And Comptroller General Of Nigeria Customs Service Imbroglio, Senator Yayi Explodes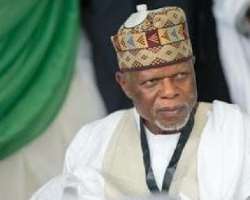 Learnt that Senator Solomon Olamilekan, popularly known as Yayi was on a national television programme on Monday 13th March 2017, to speak on Nigeria's senate declaration of war on the Comptroller General of Nigeria Customs Service, Col. Hameed Ali (Rtd.). Though I didn't watch the interview, but what I gathered was that the senator brimmed with fire on the senate summons to the CG of customs.
Shockingly, I also learnt that senator Yayi who is a law maker and a supposed embodiment of law, order and constituted authority, condemned the officers of the customs service for performing their constitutional functions of arresting vehicles which evaded, escaped or connived in not paying the required duty at the ports or borders because according to him, once the vehicles or goods have passed the ports or borders to be on the roads, even when they are caught, the customs service should look the other way and allow the violation of the law.
Looking at the above position of Senator Olamilekan this morning, never in my life and am sure in the life of many Nigerians, have we seen an embodiment of law and order publicly call for and encourage the violation of the law which he swore on oath to uphold and of which he was elected to make for the good of the society.
If Senator Olamilekan can publicly support the violation of the law, then his membership of the senate is a waste and he doesn't qualify to be called a law maker, but should be appropriately described as a law breaker.
Also some hours ago, I read a press statement from his media office, whereby the senator was quoted as saying that among the reasons why they are summoning the CG of customs was because they have it on good authority that he does not take directives from the minister of finance. Haba Senator! Wetin concern agbero with overload?
For heavens sake, this statement by Senator Olamilekan is a clear testimonial of a senator who is very ignorant of the doctrine of separation of powers in a democracy. By the way, we need to educate this petty and misguided senator and am sure, a lot of his colleagues that the workings of the executive is strictly its own responsibility just as that of the Senate, is its own independent and personal affair.
With the ignorance and pettiness exhibited by Senator Yayi and by extension the senate on a national television programme this morning, am afraid that our democracy is in serious danger in the hands of law breakers mistakenly called law makers.