Tragedy at Airforce Base Markurdi as air force official kills self, girlfriend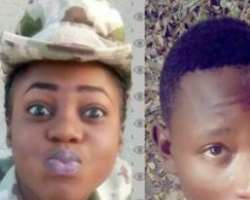 Tragedy! It was a gory tale of love went awry in Benue State on Sunday as  an officer of the Nigerian Air Force (NAF)  at the NAF Base in Makurdi, shot and killed a female colleague over alleged infidelity, then later killed himself.
The incident which occurred Sunday morning sent shivers down the spines of most airmen at the Tactical Command Air Force barracks.
According to a source, an Airman, Kalu B.A, shot dead his girl friend, Aircraft Woman (ACW), Oladipupo Solape, for   allegedly sleeping with another man. 
While a version of the story said the deceased lady allegedly slept with a civilian boy friend in his quarters, another alleged that the lady was having an affair with a senior officer.
The d ead air force officer, who happened to have closed from duty,  according to the first version, had arrived at his official residence and found his girlfriend on his bed with her civilian lover.
According to the story,  as soon as   Kalu entered the house and found his girlfriend with the civilian he brought out his service pistol and shot the girlfriend and also attempted to shoot   her lover but the gun failed to fire.
This helped the man to escape and raise the alarm which drew the attention of neighbors to the incident.
Less than two months before ending the love sojourn, the young officer, declared: "She's everything to me," but on Saturday night, he took to his Facebook page to write: "My last night as an airman…. ask about me later and hear my story… you would b surprised."
Earlier he had written: "RIP young blood… I wish myself that." And early on Sunday, he wrote: "4:36," probably in reference to the time he took her life before his.
Oladipupo Solape
While their relationship lasted, Kalu posted information about their private lives on social media, and tagged her on virtually all his posts on Facebook.
On January 20, he wrote: "Taking nice pix with my bae is my hobby," and to prove this, he posted many of such photographs on Facebook. That same day, he went down memory lane recalling how he met his estranged lover.
"It all started with a 'Hello'. I remember vividly that Monday morning on the parade ground. Seeing such a beauty, pondering on what's right to say to her. Everyone's eyes were on her but my eyes were bigger," he wrote.
"I was over blown by the wind of bravado, standing next to her. It was all about me looking like the beast while she was the beauty but today beauty fell in love with d beast and they both live happily ever after.
Unfortunately, it ended on Sunday. Kalu forgot the love he professed for his country, and how he was ready to sacrifice his life for his fatherland.
"I would die for my country. I pledge loyalty to her. This is my job," he had written.
Friends and colleagues of Solape have been expressing grief over the incident.
One of them wrote on Facebook, "R.I.P Shomzy shomzy your death is some thing I can't forget so easily because your military plans is still in your mind. Well I can't continue crying my dear, all I have to do is to let go of what I can't change."
Another friend shared a screengrab of his last Whatsapp chat with her along with the message, indicating she would be missed.
"R.I.P my dear FRD it really hurt me I am sad I remember Tuesday or Wednesday that we chat last around 12:30. When we start chatting, you promised to come on my junior birthday in July and you said you are in Makurdi right now and I prayed for you. And you told me God is ur strength.
"Almighty God my friend have faith in u and u can't protect her crying crying. We love u but almighty God love u most my Facebook daughter I won't forget ur memory.love u. Oladipupo solape and now Shomzy Shomzy I miss u."
"I wished you happy birthday last two weeks; I can't believe that you will go and leave me my course mate my regular. I love you but God loves you more. R I P and your blood never be in vain."
The Command Public Relations Officer, Wing Commander Emmanuel Iheoma, has confirmed the development to the media.
He described what happened is as a case of love gone sour between Kalu an d Oladipupo which led to shooting of the air force woman and the subsequent suicide of the assailant.
According to him, "An air force man, Kalu B.A, was at 6.06am this morning (Sunday) arrested and detained at the Air Force provost squadron.
"When the incident happened, the Air force Woman was rushed to the NAF Base hospital and later referred to Benue State University Teaching hospital in Makurdi where she died.
"Further investigations are on going to ascertain what really happened and the media will be informed."
The air force did not explain how Kalu ended his life after taking the life of his girlfriend.